It doesn't get better than this! 再好不过了
中国日报网 2020-12-02 14:28
分享到微信 Reader question:
Please explain this sentence: "Basketball doesn't get any better than this."

My comments:
"It doesn't get better than this" is the American expression in question. It's a colloquial expression that means exactly what it says, it doesn't get better than this, this being what you get.
In our example, it's easily inferable that someone said this after watching a good basketball game, with lots of high-quality plays.
In other words, the speaker thinks this is the best basketball he's seen or, since he's obviously very happy with what he saw, he thinks basketball players cannot possibly play any better than what he just saw.
Really?
Well, we're not here to quibble. Just know that "it doesn't get better than this" is something people say when they're happy with something or some experience.
After the great Maradona died last week, due to heart failure at the age of 60, I watched, again and again, the highlights of his performance in the 1986 World Cup Finals in Mexico. Maradona led Argentina to the title, of course, to cement his place in history but the most astounding achievement of Diego in the tournament was actually the way he scored two of the best goals in tournament history. Against England and then Belgium, Maradona negotiated his way past four or five or six defenders to score. He ran past half the team of the opposition to score and he did it twice!
Football doesn't get any better than that! That's what I have to say. If you are a Maradona fan, you'll never forget his performance in Mexico. Rest in peace, Diego.
Anyways, "it doesn't get better than this" is one way of putting it. In other words, Maradona is the best.
Here are media examples of "it doesn't get better than this" or "it doesn't get any better than this":

1. "America is great because she is good. If America ceases to be good, America will cease to be great."
You may remember this famous quote from French historian and political scientist, Alexis de Tocqueville. What is perhaps less known about de Tocqueville is his concern that the American ideal of independence could morph into mass isolation.
That which he feared may have come upon us. More and more Americans live alone and have few significant relationships. Blue Zones author Dan Buettner argues that the average American has only 1.5 close friends. Being isolated is not just lonely—it is downright dangerous. Loners are vulnerable to everything from poor health to diminished social skills, abuse, anxiety, depression, defensiveness, personality disorders, assault, and suicide.
While not the only factor, I am going to make the case that our persistent penchant for independence is correlated, if not causally connected, to many of our own and our nation's mental, physical, and emotional health challenges. According to cross-cultural guru Geert Hofestede, Americans have one of the highest scores on individualism (versus collectivism) among countries of the world. Therefore, let me offer a positive paraphrase or corollary to de Tocqueville's quote: "Americans can be great if Americans mature into interdependence."
Martin Luther King, Jr. acknowledges America's overstated bias for independence (and racism) when he criticizes the idea of pulling yourself up by your bootstraps. Says King, "It's all right to tell a man to lift himself by his own bootstraps, but it is a cruel jest to say to a bootless man that he ought to lift himself by his own bootstraps." According to Gary Martin, bootstrapping means "to improve your situation by your own efforts." Bootstrapping is an "imagined feat" and an "impossible task."
...
Myth has it that swans sing their most beautiful song just before they die. If this is how you are feeling, then it is time to start writing a new song of intentional interdependence. You are not a rock or an island. You are not a fortress. You deserve friendship, laughter, and loving. You need community and community needs you.
So take a small step today. Reach out to a safe person (many people are). Reach out to a person of a different background. Have coffee. Build a friendship and work together in community to make a difference. Go to a place of worship. Join a group of diverse and similar people who share your interests. Press into the significant relationships that you do have - your community. Help someone else. Learn to expect the best in others, to connect and reconnect.
Dependence (on substances), co-dependence (on others), and independence (from others) are not solutions. They are the problem. If you find that you can't break free from isolation into connectedness—if you are stuck—get the professional help that can guide you toward interdependent health.
For the past 2 years, I have had the privilege of working with leaders in my birth city, Pontiac, Michigan that was devastated in 1967 during the riots. We are making progress by co-creating a new workforce development program with Habitat for Humanity, the city and schools, Michigan Works, the Pontiac Promise Zone, three colleges (including my own), and the Greater Pontiac Community Coalition. It is one of the most challenging, rewarding, and important initiatives of which I have been apart. Some young people already have work experience and training and are gainfully connected and employed. Though we are just getting started, we realize that workforce development is an important cause around which even polarized groups can rally and contribute their support.
This is my Declaration of Interdependence – "that America and Americans can be both good and great as they mature into interdependence." And it really "doesn't get any better" than that.
- The New Declaration of Interdependence, by David C. Strubler, PsychologyToday.com, June 23, 2019.

2. Oscar winner Olivia Colman has spoken about co-starring alongside Sir Anthony Hopkins in upcoming dementia tearjerker, The Father, saying "it doesn't get any better than this".
The Father is based on the hit play of the same name by French playwright Florian Zeller, who also directed the film. The father is a man whose grip on reality is dwindling and has begun to believe his daughter, Anne, and son-in-law are imposters. Colman plays Anne, who struggles with her duty of care to him as she and her husband plan to emigrate.
Colman told the Zurich Film Festival, via video link: "It is very moving, very beautiful and Florian Zeller is a very, very clever man. For me, it's always the script – everything is in there. It arrived to my home and I couldn't put it down. I didn't want anyone else to play that part!"
According to Variety, the moderator of the video interview, Christian Jungen, referenced Sir Anthony's recent statement that he didn't want anyone else to play the daughter either.
She responded: "Anthony Hopkins is playing my dad – it doesn't get any better than this. Tony and I, we are not method. We were just playing off each other and it's easy to just react to what he is doing. He is exactly what you would hope he will be, he has endless brilliant stories. We were sitting off set once, and he just leaned in and said: 'Aren't we lucky? Isn't life beautiful?' His kindness to everyone on set is beautiful to behold and something to aspire to."
Colman was awarded the Golden Eye Award at the festival, in recognition of her illustrious career, and Jungen said: ""Before she decided to be an actress, she wanted to be a primary school teacher, and it was during a school performance that she discovered acting. 'Give it a year,' her mother said. 'I will give it 10,' she answered. She worked hard to carve out a career. She gave it 10 years, and now her time has come."
The star of The Favourite and The Crown said: "I'm very humbled, and I am thrilled that the film is being shown at a proper cinema. I am really jealous! It's special – it's something you can't recreate at home," she said, before commenting on the montage of clips shown from many of her roles. "It's funny seeing all these films from when I was much younger, all the way to Queen Anne!"
- The Father star Olivia Colman: "Anthony Hopkins playing my dad? It doesn't get any better than this", RadioTimes.com, September 27, 2020.

3. Rafael Nadal and Novak Djokovic meeting in the final of French Open 2020 is predictable as well as poetic.
The 2020 tennis season, like the year, has been full of turmoil and change. But the last day of the final Grand Slam of the year will have a match that is both a throwback to men's tennis at its peak and one of the most important matches for the sport's history.
The top seed and 2015 champion reached his fifth final while the second-seeded 12-time champion is in his 13th on the red clay of Paris. It will be the 56th meeting between the two, 15 at Grand Slams and eight in finals, but this might just be the most significant in the long run.
On Sunday, world No 1 Djokovic can win an 18th Major and become the first man in half a century to win all four Slams twice – a significant milestone in the Big Three era. World No 2 Nadal can equal Roger Federer's all-time record men's of 20 Grand Slam titles with his 13th French Open and 100th win at Roland Garros.
…
Given Nadal's unreal dominance of the Parisian clay, winning even one French Open to complete a Career Slam was considered a superlative achievement. Djokovic had stumbled at this roadblock occasions before his 2016 title – twice to Nadal (2012 and 2014) and to Stan Wawrinka after stunning Nadal in 2015. Indeed, he has had some agonizing moments where he has stopped short of a final. In 2011, his 43-match winning streak was halted by Roger Federer in the semi-finals. 2018, he lost a five-set epic in the quarter-final to world number 72 Marco Cecchinato of Italy. Last year he was beaten in the semi-finals by Dominic Thiem in conditions which he likened to playing in a "hurricane" in a match took two days to complete.
But he has come back every single time… just like in Friday's semi-final where he momentarily lost his rhythm. From dominating the big points in the first set to failing to serve out the match after having match points, it was an unfamiliar situation for the top seed. The fourth set was an anomaly as he suddenly could not take the chance he normally pounces on. But his response was breadstick final set against a 22-year-old who was cramping in the fifth. That is his lofty level, physically and mentally.
Similarly, the 34-year-old was tested by Schwartzman, who had knocked out two-time finalist Thiem and looked set to take a set at least. Already, he has been honest about his physical struggle in the autumnal conditions with the new and widely-criticized heavy balls. The conditions are anything but favourable and it looked like it was finally catching up against the plucky Argentine. But the way he swept the third-set Tiebreak without losing a point was a classic Nadal at French Open trait: he will rise higher every time the challenge gets tougher.
This then is the stage for an extraordinary finale to a Grand Slam where everything is different except the Top 2. Their eight Grand Slam finals so far have been record-breaking and physically intense and this one will be both.
At the end of it we will either have momentous 13 or a possibly more historic second French Open. But before that, we will have a match to showcase, once again, just what a remarkable era we are living in. In a year of worst case scenarios, men's tennis doesn't get better than this.
- It doesn't get better than this: Historic Nadal vs Djokovic French Open final caps tumultuous 2020, Scroll.in, October 11, 2020.
本文仅代表作者本人观点,与本网立场无关。欢迎大家讨论学术问题,尊重他人,禁止人身攻击和发布一切违反国家现行法律法规的内容。
About the author: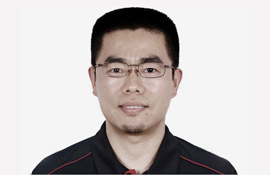 Zhang Xin is Trainer at chinadaily.com.cn. He has been with China Daily since 1988, when he graduated from Beijing Foreign Studies University. Write him at: zhangxin@chinadaily.com.cn, or raise a question for potential use in a future column.
(作者:张欣 编辑:丹妮)
中国日报网英语点津版权说明:凡注明来源为"中国日报网英语点津:XXX(署名)"的原创作品,除与中国日报网签署英语点津内容授权协议的网站外,其他任何网站或单位未经允许不得非法盗链、转载和使用,违者必究。如需使用,请与010-84883561联系;凡本网注明"来源:XXX(非英语点津)"的作品,均转载自其它媒体,目的在于传播更多信息,其他媒体如需转载,请与稿件来源方联系,如产生任何问题与本网无关;本网所发布的歌曲、电影片段,版权归原作者所有,仅供学习与研究,如果侵权,请提供版权证明,以便尽快删除。