Playing the long game? 从长计议
中国日报网 2021-06-11 13:55
分享到微信 Reader question:
Please explain "the long game", as in this sentence: The CEO assures investors that he's playing the long game.

My comments:
What the CEO tries to do here is to reassure investors that he has a long term strategy for growth.
He's trying to keep investors confident in his company, which is suffering losses and seeing its stock price drop like a rock right now.
Or something like that.
Anyways, here, playing the long game is a metaphor and not to be taken literally. Here, the long game refers to a long period of time instead of a long distance.
In golf, of course, there is the long game and the short game in the literal sense. The long game refers to a player's ability to hit the ball and drive it far, hundreds of yards far as a matter of fact.
Wow.
Exactly. And having that kind of long game helps. Obviously, it enables the golfer to drive the ball closer to the hole with fewer shots. For example, if you can drive the ball to the green with three shots instead of four or five, you gain one or two shots.
The short game in golf, on the other hand, refers to the ability of a player to be able to put the ball into the hole from close range, from, say, ten feet or closer.
Metaphorically speaking, though, when people talk about playing the long game in business or other walks of life, they mean to say that they are in for the long haul, that they are thinking long term, that they are not afraid of temporary, short-term setbacks.
All right?
All right, here are recent media examples of people playing the long game:

1. You can say that Rory McIlroy gets spooked by the Masters, that he wants to complete the career grand slam so desperately that his brain seems to short circuit, that he would probably win tournaments on an exact replica of Augusta National as long as there was no green jacket on the line, and that's all fair. This week, it is also irrelevant.
McIlroy shot a first-round 76 Thursday, but this wasn't about pressure or history. When you watch McIlroy at the Masters this week, you're not really watching the McIlroy you have watched for years. You're watching McIlroy in transition.
There have been times in the past year when McIlroy seemed to have no idea where the ball was going. He finally admitted his swing was out of whack, that he got caught up in the speed chase, and he decided to make Pete Cowan his primary teacher. Cowan can help in a lot of ways, but what he could not do is postpone the Masters. And so this week, McIlroy was like an actor in the middle of a costume change when the curtains went up for the second act. He could run away or hope nobody notices he is still buttoning his shirt.
McIlroy knows it, too. That was apparent when he met with the media in Augusta Tuesday. He kept saying he could win the Masters, but he did not say he expected to win the Masters this year. Sure, his official position was that he was here to win. But it was not realistic. He doesn't trust his swing yet.
"I'm on the range off a flat lie, yeah, perfect, I can do it every time," he said Thursday. "But then once you get on the golf course and you get these different lies and different shots and different winds, that's the litmus test right there, and it still didn't feel quite 100 percent."
The most memorable shot of McIlroy's round hit a spectator: His father Gerry. ("I think he just needs to go and put some ice on—maybe I'll autograph a bag of frozen peas for him," McIlroy said.) But perhaps the most telling was on the par-5 13th. He found the fairway with his first shot, but still found the creek with his second. The fairway slopes right to left, making the approach challenging.
"More than anything else around here, it's trusting [the swing] on these side slopes and having these balls that are two feet above you," McIlroy said. "That was sort of what happened on 13."
It was that kind of day. On the par three sixth, he pulled his tee shot and exhaled deeply. He had missed in the wrong place—short-sided—and he knew it. On No. 9, he hit a great drive and had some swagger. His approach was good. But then he three-putted for bogey.
McIlroy did say "I was encouraged by some of the stuff I saw out there." It is truly amazing how well great golfers can play when they are still searching. As lost as Jordan Spieth looked in recent years, he managed to make cuts on the toughest tour in the world. McIlroy might not win again all year—just two years after winning the PGA Tour Player of the Year award. But he and Cowan are playing the long game.
"I just thought with what I have been sort of struggling with or trying to find a grasp with my swing, Pete likes to get his students to do what I was trying to feel I was doing," McIlroy said this week. "It just felt like a comfortable fit for me. That's the reason I brought him in. It's basically just about trying to understand the body movements a little bit more and sort of understanding why certain shots happen and how to fix those on the fly."
At some point, McIlroy will look like himself again, and then he can resume his pursuit of a green jacket. It would help if he turns his wedge play from a weakness to a strength. But in the meantime, McIlroy started to say what he knew coming in: This week is not really about winning for him: "I mean, my goal is to play well and at least give myself a chance."
- Rory McIlroy Is Taking the Long View, and the 2021 Masters May Not Be In Sight, SI.com, April 8, 2021.
2. Upon further review, Aaron Judge is getting one more day of rest.
Yankees manager Aaron Boone decided late Wednesday night to keep his slugging right fielder out of the starting lineup for a second straight day.
Judge entered Thursday's game as a pinch-hitter and struck out in the eighth inning of a 4-3, 10-inning win by the Orioles at Camden Yards.
"He's doing well this morning,'' Boone said Thursday, prior to the Yankees' four-game series finale at Baltimore.
The fact that Thursday was an afternoon game factored into Boone's decision.
Boone anticipates that Judge will return to the Yankees' starting lineup Friday night, when his club opens a homestand against the Tigers.
Boone cited "lower body soreness'' as the reason for resting Judge for Wednesday's game, which the Yankees won 7-0 at Camden Yards.
"Just feeling like let's give this thing one more (day),'' Boone said of "playing the long game'' with Judge, who turned 29 on Monday.
"We want our best players to be able to post as much as possible,'' Boone said. "We're in the midst of our first long (stretch of) 13 games in a row, and (we're) trying to be proactive.
"As opposed to reacting to something getting out of hand.''
Judge was rested earlier this month for two straight games, dealing at that time with an unspecified left side soreness.
The vagueness of Judge's current condition, according to Boone, is because what's ailing him "is non-specific right now.''
- Aaron Judge not in Yankees lineup Thursday: When will he start again? NorthJersey.com, April 29, 2021.
3. When the Justice Department argued in a court filing Monday that it should be allowed to protect former President Donald Trump from a defamation lawsuit brought by a longtime magazine columnist who accused him of rape, a move that would hugely benefit Trump by likely ending the litigation, some wondered why the Biden administration would take such a position.
After all, the White House has changed hands since the lawsuit was first filed, and the Justice Department — which, under former Attorney General William Barr, widely seen as a staunch Trump ally, initially argued for the right to substitute itself for Trump as the defendant — is now led by Merrick Garland.
But for some who have worked in the DOJ, the department's position came as no surprise because they saw it as an effort to protect the institution of the presidency rather than an attempt to insulate Trump.
"The department likely held its nose and winced in making the argument, but they're playing the long game," said Michael Weinstein, a former federal prosecutor in Washington, DC. "They don't want to be seen as pro-Trump, but they are looking at protection of federal officials and the President in the future."
The lawsuit filed by the columnist, E. Jean Carroll, alleges Trump defamed her when he denied raping her, said she wasn't his type and claimed she made the allegation to boost sales of her new book.
Indeed, in its response filed Monday as part of an appeal in the 2nd US Circuit Court of Appeals, the department went out of its way to disavow Trump's response to Carroll, at various points in the filing calling it "crude," "disrespectful" and "without question unnecessary and inappropriate." (A spokesman for President Joe Biden, meanwhile, said the White House "was not consulted by DOJ on the decision to file this brief or its contents.")
But, DOJ lawyers argued, Trump was acting "within the scope of employment," writing that "speaking to the public and the press on matters of public concern is undoubtedly part of an elected official's job."
"Courts have thus consistently and repeatedly held that allegedly defamatory statements made in that context are within the scope of elected officials' employment — including when the statements were prompted by press inquiries about the official's private life," they wrote.
That position, Weinstein said, is "so important that it trumps — pun intended — the terrible comment he made in this situation."
"The issue really comes down to, they're trying to protect future presidents from the chipping away of protections that they're now entitled to," he added. "So as distasteful as it may be for current officials, as I said, they're playing the long game."
- Why the Biden Justice Department wants to help Donald Trump fight a defamation lawsuit, CNN.com, June 8, 2021.
本文仅代表作者本人观点,与本网立场无关。欢迎大家讨论学术问题,尊重他人,禁止人身攻击和发布一切违反国家现行法律法规的内容。
About the author: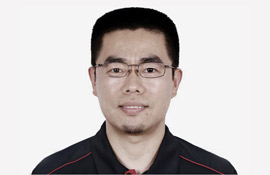 Zhang Xin is Trainer at chinadaily.com.cn. He has been with China Daily since 1988, when he graduated from Beijing Foreign Studies University. Write him at: zhangxin@chinadaily.com.cn, or raise a question for potential use in a future column.
(作者:张欣 编辑:丹妮)
中国日报网英语点津版权说明:凡注明来源为"中国日报网英语点津:XXX(署名)"的原创作品,除与中国日报网签署英语点津内容授权协议的网站外,其他任何网站或单位未经允许不得非法盗链、转载和使用,违者必究。如需使用,请与010-84883561联系;凡本网注明"来源:XXX(非英语点津)"的作品,均转载自其它媒体,目的在于传播更多信息,其他媒体如需转载,请与稿件来源方联系,如产生任何问题与本网无关;本网所发布的歌曲、电影片段,版权归原作者所有,仅供学习与研究,如果侵权,请提供版权证明,以便尽快删除。