No object? 不成问题
中国日报网 2021-08-17 12:34
分享到微信 Reader question:
Please explain "no object" in this sentence: If money and time were no object, which place in the world would you like to visit right now?

My comments:
Maybe Greece. Maybe Egypt. Maybe England.
Use your imagination. It's an interesting question to answer.
If, of course, time and money were really no object.
That means, if time and money were no consideration. In other words, let's suppose you have the time in the world and all the money to cover the cost.
No object, literally means something immaterial because, an object is something material, something real. No object, therefore, means no-thing, nothing, hence, immaterial.
In other words, no object means something non-existent.
Hence, as an idiom, if we say something were "no object", we means to say that they're no consideration, no hindrance, no cause for concern, nothing to bother us, etc., and so forth.
And, no more ado, here are media examples in which something, especially money, were or is "no object":

1. Paris Saint-Germain might well still be in the market for Lionel Messi, and it's understandable why that may be the case.
The French champions are one of a small handful of clubs that could realistically afford to buy Messi outright and pay his astronomical salary.
Nasser Al-Khelaifi is the figurehead of Qatar Sports Investments who have, to this point, bankrolled the club to the tune of hundreds of millions.
A year ago, he told Simon Kuper of the Financial Times: "We have a very clear vision, to be honest. In five years, we want to be one of the best clubs in Europe and to win the Champions League. And our brand to be worth €1 billion. And we will be there."

Regular forays into the latter stages of European football's premier club competition have generally been curtailed before the business end of the tournament, despite a hefty outlay on players such as Thiago Silva, Edinson Cavani and Zlatan Ibrahimovic.
As Chelsea loom large again in this season's competition, manager Laurent Blanc will be looking for an improvement on their last performance in west London to take PSG into the quarter-finals of the competition and one step closer to the realization of a dream.
...
Clearly, money is no object for PSG, and the challenge of getting the club to the pinnacle of European football might appeal to the Argentinian if boardroom squabbles continue at Barcelona.
- Why PSG Are Wasting Their Time Even Considering Signing Barcelona's Lionel Messi, BleacherReport.com, March 8, 2015.

2. The Hamptons are so overbooked this summer, some folks are offering hotels way more than their going room rates to score reservations, sources tell Page Six.
Michael Pitsinos, the owner of Naia at the Capri hotel in Southampton, told Page Six the bidding phenomenon is not uncommon. "It's like 'Hamptons Hotels Gone Wild' out here these days," Pitsinos said, claiming bidders have offered as much as five figures per night. "It's nearly impossible to get a hotel room on weekends in advance, let alone getting them the same day."
Hotels clear space by offering those with existing reservations perks and comps for later dates if they give up their rooms.
We hear that rappers Young Thug and Travis Scott along with an entourage of about 15 were recently partying at the hot spot. Witnesses said that while Scott made a quick departure, Young Thug kept bottle service going and decided to be safe and book the spot's remaining rooms for $1,500 a bed.
"They have money and they don't care," said the source. "They want to wake up by the pool. Money is no object." We're told other partygoers wanted to do the same, but had less luck. "Other people at the bash were trying to outbid [Young Thug] for the rooms since everywhere is booked," said the spy. "Some made offers as high as $5,000."
Pitsinos declined to comment on Young Thug.
75 Main restaurateur Zach Erdem, who also owns the hotel Harpoon House, told us, "The hotels are insane. People booked months in advance for $600, $700, and now people are calling and offering double the money." Erdem said, "I put up a room for $1,200 and it sold in a minute . . . Rooms are going for $1,200 to $1,500 or even $2,500." He added, "I have never seen it like this. I wish I owned more hotels."
- Wealthy travelers are starting bidding wars to score Hamptons hotel rooms, PageSix.com, July 20, 2021.

3. Every time I talk to Saundra Pelletier, the CEO of Evofem Biosciences, she knocks my brain around with her powerful insights about leadership. A must read.
Q: What have been the key leadership lessons for you from the past 18 months?
A: This might sound a bit contradictory to the idea of leading with emotional intelligence, but I learned in the pandemic that people really value directional guidance – not micromanagement, but directional guidance.
Because we were so disconnected and remote, sometimes I just needed to say, rather than collaborating to find a solution, "Here's what the goal is. Here are the options to get to the goal. Here are the positives and negatives of each of these, and let's figure out what's going to be the best option for the company."
Before the pandemic, I wouldn't be so prescriptive. The pandemic has taught me that being prescriptive can be a positive. It can help people get to the right outcome faster. If, for example, the goal is "blue," then we don't need to talk about pink or red or yellow. Let's just talk about the shades of blue and how we end up at blue. Let's forget about going down rabbit holes. That was a big lesson, and I'm going to keep doing it because it seems to get better results.
Q: Push that too far and it becomes like command-and-control leadership. How do you think about that balancing act?
A. I'm all about upfront communication to explain the "why." If it's an issue like raising capital, that is the foundation of the house, and so I'm going to be a little more prescriptive than I would like to be. I don't think I'm becoming a dictator, and I say that up front – "For those of you that are thinking that the dictator has arrived, know that she has not." I use a balance of humor and brutal honesty. People like it when I say what they're thinking, and so I'll introduce the elephant in the room.
Q. How do you make sure your leadership team is operating like a true team?
A. I have a 15-minute check in every two weeks with each person on my executive team, and it's another moment of brutal honesty. If somebody seems short-tempered or agitated in our meetings, or if somebody seems reluctant to make hard decisions, I'll ask them why so we can adjust.
I'll keep it short and sweet, and then joke, "Good talk. Good talk," and they will roll their eyes. They may want to make a voodoo doll of me when they go back to their office, but in my review at the end of the year, every single one of them said the most constructive interaction they have with me is in these 15-minute talks because they never have to guess what I'm thinking, and I give them a perspective that they're sometimes not seeing.
Q. Have you always managed that way?
A. It's been a huge evolution for me, and it happened after my cancer diagnosis three years ago. Cancer probably changes everybody. It changed me forever — I get up every day feeling grateful that I have this second chance and that I better do something with it. But cancer made me realize that I need to stop beating around the bush with people. Just say what you've got to say and say it with kindness. Make sure they know you're doing it for the right outcome. It's been cathartic for me.
Q. Did everybody react well to your new approach?
A. After I got better, I sat down with the team and said, "Look, I've had a lot of time to reflect, and there are some adjustments I want to make. I want to operate very differently than in the past. The reason I'm telling you is that some of you are going to be caught off guard. Some of you are not going to like it. Some of you are going to love it. You can't please everybody, but this is the right approach for me as a leader. It's going to be truth serum time around here." Every person on my executive team stayed except for one.
...
Q. If you could only ask somebody one question in a job interview and decide based on their answer whether to hire them, what would it be?
A. I'm still using the same question I've used for years: If money, time, and talent were no object, what would you be and why? You learn so much about people from their answers. They tell you stories that you would never hear after working with them for five years. Their answers will tell you whether or not they're a fit for your organization.
The diversity of answers is extraordinary. What I really listen for is whether they are able to answer the question based on who they are, not what they think I want to hear.
One woman told me, "I've always hoped that one day I would wake up and have the courage to be an artist through food. I've always wanted to be a culinary chef. I go to different cooking schools around the world. I have dinner parties for my friends. But I came from such a meager beginning that I've worried that I could never make a living doing that. I balance that with my financial responsibilities, and I've decided that acceptable. I've decided that I have the best of both worlds."
Her story made me understand that she is logical and solid and balanced, and that she's not settling. I think so many of us have these interesting hopes and dreams that are just unfulfilled, but what do you do about that? Are you upset? Do you feel like life passed you by? Do you feel like it's a burden? So I try to assess their happiness quotient, because happy people make your culture better.
Q. And your answer to that question?
A. If I could do it all over again, I would have gotten into politics early and I would be the first woman President of the United States. I used to want to be a jazz singer, like Nina Simone, but I've given up on that.
- "Cancer Made Me Realize I Need To Stop Beating Around The Bush With People", ExCoLeadership.com, August 12, 2021.
本文仅代表作者本人观点,与本网立场无关。欢迎大家讨论学术问题,尊重他人,禁止人身攻击和发布一切违反国家现行法律法规的内容。
About the author: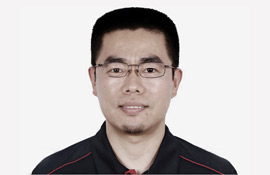 Zhang Xin is Trainer at chinadaily.com.cn. He has been with China Daily since 1988, when he graduated from Beijing Foreign Studies University. Write him at: zhangxin@chinadaily.com.cn, or raise a question for potential use in a future column.
(作者:张欣 编辑:丹妮)
中国日报网英语点津版权说明:凡注明来源为"中国日报网英语点津:XXX(署名)"的原创作品,除与中国日报网签署英语点津内容授权协议的网站外,其他任何网站或单位未经允许不得非法盗链、转载和使用,违者必究。如需使用,请与010-84883561联系;凡本网注明"来源:XXX(非英语点津)"的作品,均转载自其它媒体,目的在于传播更多信息,其他媒体如需转载,请与稿件来源方联系,如产生任何问题与本网无关;本网所发布的歌曲、电影片段,版权归原作者所有,仅供学习与研究,如果侵权,请提供版权证明,以便尽快删除。