每日新闻播报(December 28)
chinadaily.com.cn 2021-12-28 16:01
分享到微信 为正常播放该音频,请使用IE9及以上版本IE浏览器或其它浏览器。
>Shenzhou XIII taikonauts complete second EVAs
神舟十三号航天员乘组完成第二次出舱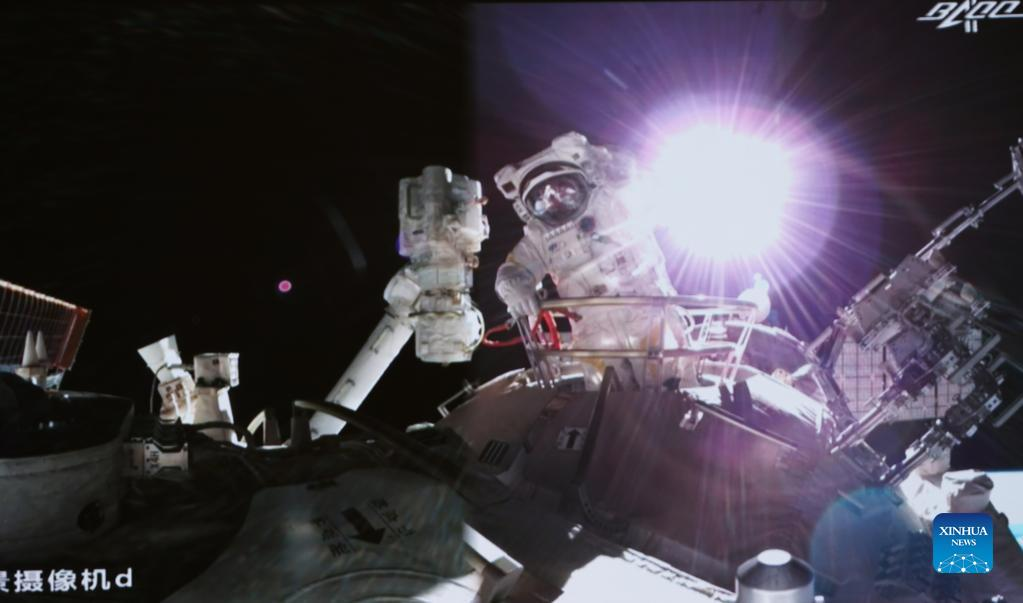 Taikonauts Zhai Zhigang and Ye Guangfu have completed their extravehicular activities (EVAs) and returned to the space station core module Tianhe, the China Manned Space Agency (CMSA) said early on Monday. This was the fourth round of EVAs during the construction of the country's space station and the second by the Shenzhou XIII crew. CMSA has declared the EVAs a complete success. CMSA said the pair returned to the core module at 0:55 Beijing time after about six hours of EVAs.
据中国载人航天工程办公室消息,北京时间12月27日00时55分,经过约6小时,神舟十三号航天员乘组圆满完成出舱全部既定任务,航天员翟志刚、航天员叶光富安全返回天和核心舱,出舱活动取得圆满成功。此次是空间站阶段中国航天员第4次出舱、神舟十三号航天员乘组第二次出舱。

Wang Yaping stayed inside to work with the ground control center operating the mechanical arm and supporting the pair in their extravehicular operations.
期间,驻守舱内的航天员王亚平配合地面控制中心操控机械臂,支持两名出舱航天员开展舱外作业。

CMSA said extravehicular operations are becoming the normal work of space station flight missions.
中国载人航天工程办公室称,实施舱外作业正在成为空间站阶段飞行任务工作常态。

The Shenzhou XIII crew will continue their in-orbit work as they welcome the new year. This is also the first time that Chinese taikonauts will welcome a new year in space, CMSA added.
后续,神舟十三号航天员乘组将投入下一阶段在轨工作任务,迎接新年到来。这将是中国航天员首次在太空跨年。
>China sees growing transport in Jan-Nov
2021交通运输运行数据发布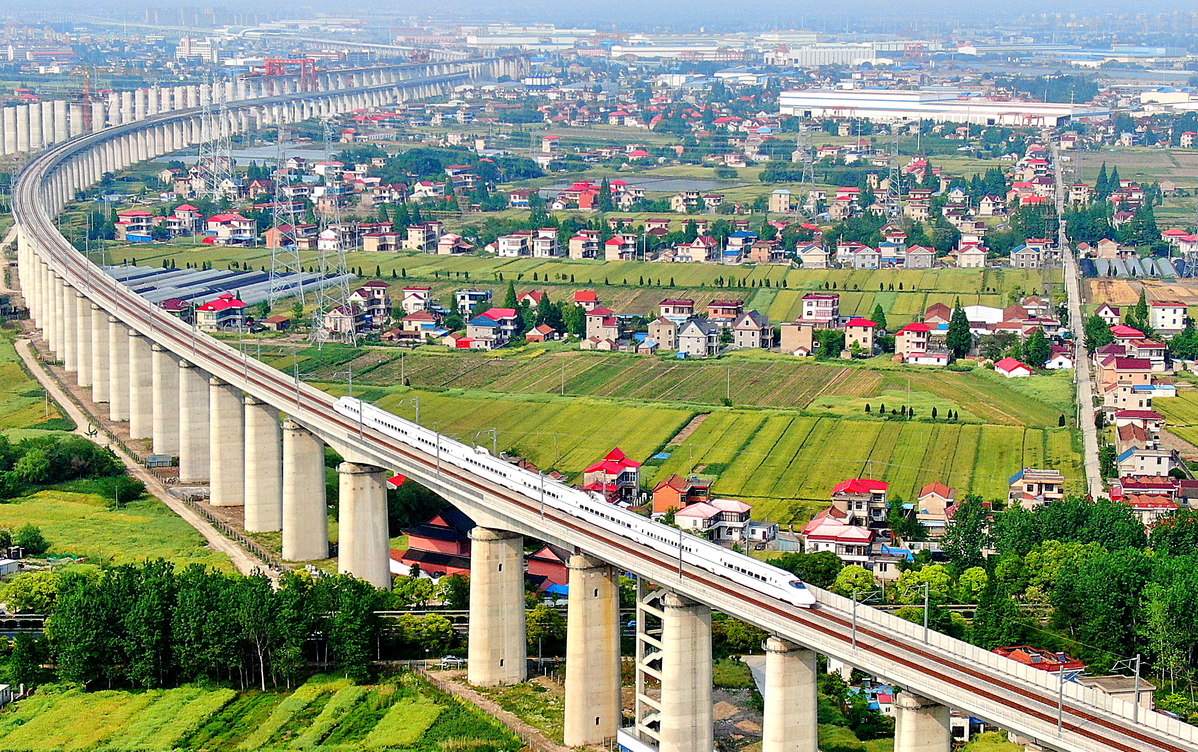 The transport sector has completed its annual goals set at the beginning of this year, Liu Pengfei, a spokesman for the Ministry of Transport, said at a news conference on Friday.
12月24日,交通运输部发言人刘鹏飞在新闻发布会上表示,2021年,交通运输年度目标和任务全面完成。

From January to November, 3.28 trillion yuan was invested in fixed assets in transportation, including 640.1 billion yuan in railways, 2.53 trillion yuan in freeways and waterways, and 105 billion yuan in civil aviation.
今年1-11月,完成交通固定资产投资3.28万亿元,其中铁路6401亿元、公路水路2.53万亿元、民航1050亿元。

It is expected to build and renovate expressways stretching more than 9,000 kilometers this year. A total of nine new airports have begun operations. The country has newly built more than 1,000 km of rail transit, such as subways, in urban areas.
预计全年新改(扩)建高速公路超过9000公里、新颁证民用运输机场9个,新增城市轨道交通运营里程超过1000公里。

During the first 11 months, the country handled 7.73 billion passenger trips, a year-on-year decline of 12.2%. However, Liu said, passenger trips in railway, water and civil aviation have increased, while road traffic has dropped.
1-11月,完成营业性客运量77.3亿人次,同比下降12.2%,其中铁路、水路、民航客运量同比均有增长,公路客运量同比下降。

From January to November, the country handled 47.5 billion metric tons of cargo, a year-on-year increase of 13.5%.
1-11月,完成货运量475亿吨,同比增长13.5%。

Ports across the country are expected to handle 15.5 billion tons of freight this year.
预计全年完成港口货物吞吐量155亿吨。

The ministry also promoted new energy and clean energy vehicles.
加快新能源和清洁能源运输装备应用。

More than 86,000 new energy vehicles have been added to deliver parcels in cities, and over 66% of city buses are new energy vehicles.
累计新增城市物流配送新能源车8.6万余辆,新能源城市公交车比例目前超过66%。
>China adopts anti-organized crime law
反有组织犯罪法表决通过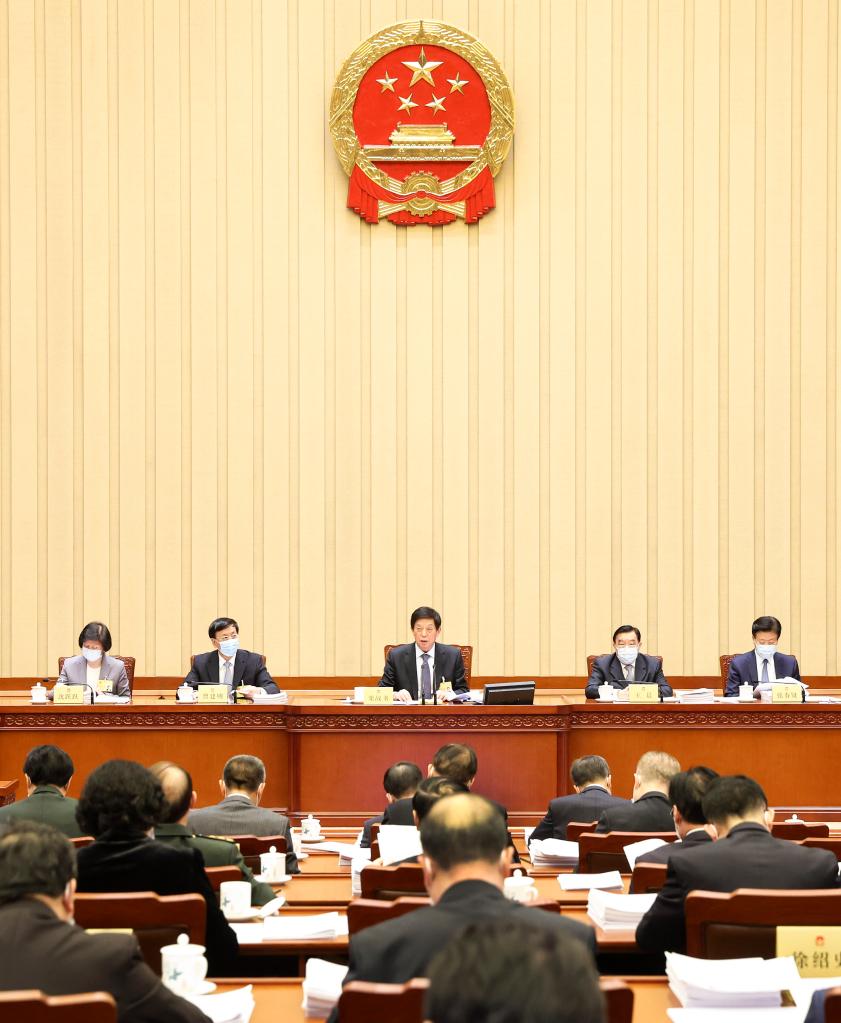 Chinese lawmakers on Friday voted to adopt an anti-organized crime law in order to strengthen the work of combating and rooting out organized crime in line with the rule of law. The law, to take effect on May 1, 2022, was approved at a session of the Standing Committee of the National People's Congress.
为保障在法治轨道上常态化开展扫黑除恶工作,12月24日,十三届全国人大常委会第三十二次会议表决通过《中华人民共和国反有组织犯罪法》。该法自2022年5月1日起施行。

The law includes provisions on the criteria for identifying various types of "soft violence", such as organized disturbing, pestering and assembling a crowd to cause an uproar for illegal profits or illegal impacts, as well as the responsibilities of regulators in various industries.
反有组织犯罪法规定了"软暴力"手段的认定,明确为谋取非法利益或者形成非法影响,有组织地进行滋扰、纠缠、哄闹、聚众造势等,可以认定为有组织犯罪的犯罪手段。

An improved long-term mechanism to prevent and control organized crime within industries will be established, according to the law, which also calls for strengthened oversight and management of industries and fields where organized crime is liable to occur.
反有组织犯罪法还对行业监管职责作出明确规定,将建立健全行业有组织犯罪预防和治理长效机制,对有组织犯罪易发的行业领域加强监督管理。

To better prevent organized crimes against minors, the law also stipulates that organized crime activities involving minors will face heavier criminal penalties.
为防止黑恶势力侵害未成年人,反有组织犯罪法规定,实施有组织犯罪侵害未成年人权益的,依法从重追究刑事责任。
>Japan's Hanyu qualifies for Beijing 2022
羽生结弦获北京冬奥会门票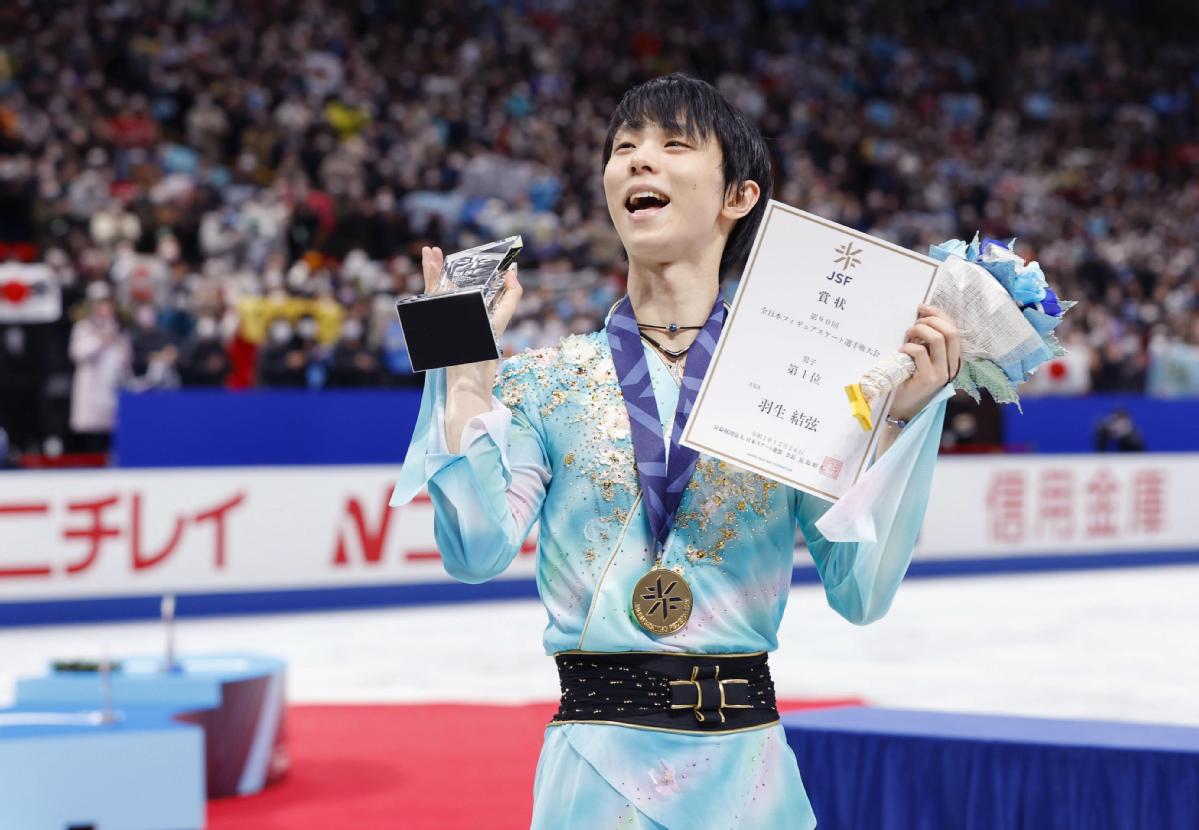 Japan's superstar skater Yuzuru Hanyu will fight for his third successive Olympic crown after winning his sixth national title and qualifying for the Beijing Olympic Winter Games on Sunday. The 27-year-old, competing in his first event in more than eight months, performed a long-awaited quadruple axel but landed with two feet.
12月26日,日本花滑名将、27岁的羽生结弦第6次获得全日锦标赛冠军,同时也拿到了北京冬奥会参赛资格,将向冬奥会3连冠发起冲击。此次全日锦标赛是羽生结弦8个多月来的首次亮相,他挑战了备受期待的4A跳(阿克塞尔四周半跳),但最后双脚落冰。

"I can finally breathe a sigh of relief," he said of the quadruple axel, adding that landing with two feet is a result he can "accept at the moment". "I will continue the practicse," he said.
赛后羽生结弦表示:"说实在的,松了一口气。正式比赛时双脚落冰,我觉得现在可以接受。我会继续努力练习的。"

Asked if he would perform the quad axel again in Beijing, he simply said, "I will try my best."
关于是否会在北京冬奥会上挑战四周半跳,羽生表示会尽自己全力。
Find more audio news on the China Daily app.
中国日报网英语点津版权说明:凡注明来源为"中国日报网英语点津:XXX(署名)"的原创作品,除与中国日报网签署英语点津内容授权协议的网站外,其他任何网站或单位未经允许不得非法盗链、转载和使用,违者必究。如需使用,请与010-84883561联系;凡本网注明"来源:XXX(非英语点津)"的作品,均转载自其它媒体,目的在于传播更多信息,其他媒体如需转载,请与稿件来源方联系,如产生任何问题与本网无关;本网所发布的歌曲、电影片段,版权归原作者所有,仅供学习与研究,如果侵权,请提供版权证明,以便尽快删除。