Carry a chip? 以挑衅的态度出现
中国日报网 2022-11-09 14:53
分享到微信 Reader question:
Please explain "carried a chip" in this sentence: He has carried a chip on his shoulder since 2020, when the team did not sign him after a tryout.
My comments:
This player is still holding a grudge, a grudge that he has been holding against his team for two years, ever since 2020, when the team refused to give him a contract right after he tried out for them.
That incident hurt him a lot. He took it hard. It was a snub, a slight, an insult even, because he thought the team didn't think he was good enough.
He has since used it as motivation to get better, to prove them wrong.
Apparently, everything has turned out well. The team eventually signed him.
All of this we may infer more or less safely, just from the fact that he "has carried a chip on his shoulder", which is, of course, the phrase to learn here.
Carrying a chip on one's shoulder is a weird kind of behavior for sure. But, apparently, according to various dictionaries, some boys in America literally did that. It is said that in early America, angry boys who wanted to challenge others to a fight would taunt them by putting a chip of wood on his shoulder and dare anyone to knock it off.
If anyone indeed stepped forward to knock the piece of wood off, then a fistfight would ensue. That reaction, someone knocking the chip off, would give the carrier a legitimate excuse for a fight – usually to avenge an earlier grievance of one kind or another.
Weird? I know. But early America being early America and boys being boys, I think it highly probable that something like this did happen – that boys and men did used to carry a chip on their shoulder to show an attitude.
A belligerent attitude, that is.
Well, no need to read it too literally, though. Nobody carries a chip on their shoulder any more. Today, people read "carry a chip on one's shoulder" for its figurative meaning only.
And that meaning is, I'm carrying a grievance. I may get angry at the slightest provocation. I'm ready to fight.
In our example, the player in question carried a chip on his shoulder to good effect. It served as extra motivation for him to get better.
All right, let's read a few media examples of players having a chip on their shoulder:
1 The day Stefon Diggs has been waiting for since March has finally arrived. It's time for the receiver to make his debut with the Buffalo Bills.
"It's time for a new beginning," Diggs tweeted on March 16, a day before Buffalo a cquired the sixth-year player in a trade with Minnesota. Nothing has changed since.
"I would say since I got traded, I haven't stopped thinking about playing ball," Diggs said as Buffalo prepares to open the season by hosting the New York Jets on Sunday.
"Definitely something I've been carrying a big chip on my shoulder," he added, before explaining this is no different from any other season for a dynamic play-maker who still feels slighted for being selected in the fifth round of the 2015 draft. "I'm looking forward to it, especially with a new journey, a new challenge each and every year. I'm eager. I'm ready."
For a team considered to have an early season edge in returning mostly intact following a coronavirus-altered offseason, the Bills gave up a first-round draft pick to land Diggs to add a spark into a Josh Allen-led offense that struggled to score points.
Buffalo managed 20 or fewer points 11 times last season, including a 22-19 overtime loss to Houston in a wild-card playoff.
- Digging it: Bills unveil new wrinkle in opening against Jets, Associated Press, September 11, 2020.
2 HE WAS SO slight, at first they didn't even notice him sliding through to the front of the line.
Trae Young, all of 120 pounds, just weeks removed from eighth-grade graduation, firmly planted himself in front of 6-foot-3, 270-pound Norman North High School basketball captain Payton Prince as if he had assumed his rightful position in the basketball hemisphere.
"It was pretty shocking," Prince says now. "I'm thinking, 'Who the hell does this kid think he is?'"
Bryan Merritt was new to town in the summer of 2013. Set to coach the Norman North basketball team in the fall, he thought it wise to gather some players for an informal workout, asking around who he should invite. Merritt was told there was a boy brimming with potential and ambition, who could sink shots from 30 feet and exhibited a knack for deftly hitting players in stride with no-look passes that startled both the defense and the recipient. The kid was small, precocious and immature, but everyone said Trae Young was definitely worth a look.
Now here he was, 14 years old, at his first team gathering, challenging its unwritten hierarchy with a stunning swath of bravado. Prince, who had signed with Tulsa and would go on to play defensive tackle there, vacillated between amused and annoyed. He shoved Young out of the way. "Back of the line," he barked. The kid grudgingly obliged, but it was not the last time he would stride to the front to stake his claim.
To the surprise and consternation of the players, Young was at it again the very next day, jockeying to the front. Young insists this is how his journey needed to unfold.
"When you're my size, it's how you have to roll to be respected," Young says. "Whenever I played with older guys, I wanted to fit in. And, once I did that, I wanted to stand out.
"To do that, sometimes you need to do things that are uncomfortable."
Young has demonstrated adeptness in such moments. The 22-year-old supernova for the Atlanta Hawks unabashedly orchestrates the game he loves with his own flair, be it a lefty, 20-foot no-look bounce pass in transition, or one of those 38-foot bombs he unleashes just after he crosses half court. These flashes of brilliance – and presumption – are rooted in his insatiable thirst to prove he belongs, delighting some and infuriating others.
"That chip," says Atlanta Hawks coach Lloyd Pierce. "Trae carries it everywhere.You have to take the good with the bad. I was with Joel Embiid when he was the same way. For both of those guys, everything is some form of competition."
...
Trae Young has taken the wisdom provided by Rondo, Pierce and his father to heart. He says he knows he still has much to learn, but plans on sliding to the front of the line anyway, whether everyone believes he belongs there or not.
"I've always carried this chip on my shoulder," Young says. "It's going to stay there until I'm done playing. People might as well get used to it."
- The audacity of Trae Young, ESPN.com, February 10, 2021.
3 DeMar DeRozan admitted he'd love the chance to return to Los Angeles.
The Compton, Calif., native had confirmed interest in the Los Angeles Clippers, per Sports Illustrated, and had been asked by Shannon Sharp if he'd like to join arms with Lebron James and join his hometown Lakers.
"You'd love to have the opportunity to play at home," DeRozan said on Club Shay Shay. "Especially if they want you, why not?"
The Los Angeles Times reported players needing to sign at a discount to play for either Los Angeles team that has contended over the past three years.
Instead, DeRozan made a money move, inking a three-year, $81.9 million deal with Chicago. The four-time All-Star still has plenty to prove at the 31 years old, which motivated both his choice to join the Bulls and the details of his contract.
In his first media availability with Chicago press, DeRozan touted his reasons for joining the Bulls, most importantly the aspect of building something special like he once did with the Toronto Raptors.
"The Bulls, the history speaks for itself," DeRozan said. "Second of all. Them making that next approach they haven't had the best season the last few years and I kind of wanted to be a part of that and change it around. Bring back that winning mentality. Every guy on that roster has a chip on their shoulders.
"Myself, I always carried a chip on my shoulder.It's so much there that could bring so much potential. It was something that was appealing to me that I wanted to be a part of let alone it being in Chicago, one of the greatest city's in the NBA, with those elements all mixed into one, it was hard to turn down."
DeMar DeRozan Reveals Why He Chose Bulls Over Hometown Lakers, Clippers, Heavy.com, August 18, 2021.
About the author: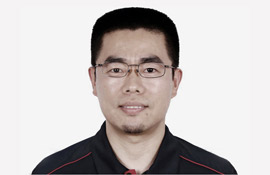 Zhang Xin is Trainer at chinadaily.com.cn. He has been with China Daily since 1988, when he graduated from Beijing Foreign Studies University. Write him at: zhangxin@chinadaily.com.cn, or raise a question for potential use in a future column.
(作者:张欣 编辑:丹妮)
中国日报网英语点津版权说明:凡注明来源为"中国日报网英语点津:XXX(署名)"的原创作品,除与中国日报网签署英语点津内容授权协议的网站外,其他任何网站或单位未经允许不得非法盗链、转载和使用,违者必究。如需使用,请与010-84883561联系;凡本网注明"来源:XXX(非英语点津)"的作品,均转载自其它媒体,目的在于传播更多信息,其他媒体如需转载,请与稿件来源方联系,如产生任何问题与本网无关;本网所发布的歌曲、电影片段,版权归原作者所有,仅供学习与研究,如果侵权,请提供版权证明,以便尽快删除。