Agree to disagree?
中国日报网 2023-01-06 12:15
分享到微信 Reader question:
Please explain this sentence: "In the end, we agreed to disagree". Are they in agreement or not?
My comments:
Disagreement.
They're still in disagreement.
After a discussion, the disagreement or difference of opinion remains. They agree to allow that disagreement or difference of opinion to remain for the time being.
This is what "agree to disagree" means, and this is what they agreed about in the end – that is, they agree to allow their difference to remain. To allow their difference to remain is the only point they could agree on.
They agreed, essentially, to stop arguing because clearly neither party was able to convince the other to change their mind.
So they agreed to disagree, to acknowledge the difference of opinion and not to keep fighting over it, not to keep fighting in order not to keep escalating the situation – not to let a verbal disagreement escalate into, say, a fist fight.
I'm exaggerating a bit, but that's the thing about "agreeing to disagree". It's kind of the more mature option. By dropping the argument for now, they give each other more time to consider or, as it were, reconsider. They can always pick up the argument again later, of course, maybe in a week from now, maybe a month from now, may be a year, whatever.
To recap, and in short, to agree to disagree is to agree not to keep arguing about a difference of opinion.
In other words, let it be.
Live and let live.
All right, here are recent media examples of "agree to disagree":
1 Big little differences.
Shailene Woodley and Green Bay Packers quarterback Aaron Rodgers don't let their political beliefs impact their relationship, preferring to "agree to disagree."
"They are not talking about their politics, and they never really have," a source shared with People about the couple. "They disagreed on a lot of things. Early on, they decided to agree to disagree about things and not debate them."
"She is not someone whose mind you can change, so Aaron hasn't even tried," the source added.
The "Big Little Lies" actress, 30, began dating the athlete, 38, in 2020. During Rodgers' NFL Honors acceptance speech for league MVP in February 2021, he announced their engagement, catching fans of the couple off-guard.
Woodley confirmed their betrothal later that month, telling Jimmy Fallon on "The Tonight Show" that they had been "for a while."
"For us, it's not new news," she added, "so it's kind of funny. Everyone right now is freaking out over it and we're like, 'Yeah, we've been engaged for a while.'"
"I never thought I'd be engaged to someone who threw balls for a living," she joked during the interview. "I never thought as a little girl, 'Yeah when I grow up I'm going to marry someone who throws balls, yeah!'
- Shailene Woodley and Aaron Rodgers 'agree to disagree' about politics, PageSix.com, January 25, 2022.
2 Romain Grosjean says he and Takuma Sato "agreed to disagree"about the nature of their crash in Practice 2 at IndyCar's Grand Prix of St Petersburg.
Grosjean shunted the #51 Dale Coyne Racing w/ RWR entry when he came up on a slow-moving bunch of cars at Turn 10, shortly after the session had restarted from its first of three red flags.
Sato labelled the new Andretti Autosport driver "reckless", but the Frenchman argued that marshals should have signaled the presence of the slow-moving vehicles ahead, and that said vehicles should not have been on the race line anyway.
"I think the marshals could have done a better job with flags," said Grosjean on the NBC Sports telecast just ahead of qualifying.
"Because, you come out of the kink, Turn 9A, I didn't know those guys were that stopped.
"And when you stop, you shouldn't be on the racing line. You should be off the racing line; that's pretty obvious."
Grosjean confirmed in the post-qualifying press conference that he had spoken to Sato after the fact, reporting that, "We agreed to disagree, so that's fine."
- Grosjean agrees to disagree with Sato over practice crash, SpeedCafe.com, February 27, 2022.
3 New parents are often surprised when they realize they have different parenting styles.
Constantly arguing over parenting becomes a source of stress for the whole family.
It is normal for couples to have a minor disagreement every now and then.
They are often advised to talk it out, find common ground, agree on consequences, and support each other.
It's great if these steps work.
But what if you've tried everything but nothing works?
What if you are co-parenting with another family that refuses to work together?
It is not always possible for two parents to agree on parenting styles or discipline strategies.
In fact, most couples do not.
Here are some things you can do if you find yourself constantly fighting with your husband or wife over discipline issues.
ACCEPT THAT YOU CANNOT CHANGE OTHERS
Here's the brutal truth: we cannot change those who do not want to change​1​.
If someone believes their way is the only way and they don't want to change, no amount of talking can change that.
It applies not only to the other parent but also to ourselves.
Accept that, don't try to change others, and stop fighting.
NO UNITED FRONT IS NECESSARY
In psychology, there are four Baumrind parenting styles: authoritative, authoritarian, permissive, and neglectful.
Among these styles of parenting, authoritative parenting is the best.
When parents have different beliefs in parenting, they worry that a lack of unity may confuse their children or allow them to pit the parents against each other.
…
AGREE TO DISAGREE AND BE CONSISTENT
Disagreement over the approach to parenting has probably put a strain on your relationship.
Parents fighting in front of the kids is stressful for children.
Frequent conflicts over parenting styles are associated with increased aggression and defiance in children.
If you cannot reach an agreement, agree to disagree.
As long as the other parent is not using aggressive parenting techniques that are abusive, such as spanking which should be intervened, let them parent the way they want and you parent the way you want. Agree on respecting each other's parenting decisions.
Consistency in both parents' parenting strategies is also necessary so children know the family rules and what to expect from both parents.
What Science Says When Parents Don't Agree on Parenting, ParentingForBrain.com, December 15, 2022.
About the author: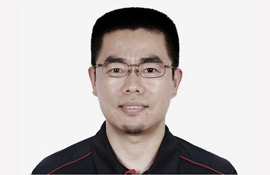 Zhang Xin is Trainer at chinadaily.com.cn. He has been with China Daily since 1988, when he graduated from Beijing Foreign Studies University. Write him at: zhangxin@chinadaily.com.cn, or raise a question for potential use in a future column.
(作者:张欣 编辑:yaning)
中国日报网英语点津版权说明:凡注明来源为"中国日报网英语点津:XXX(署名)"的原创作品,除与中国日报网签署英语点津内容授权协议的网站外,其他任何网站或单位未经允许不得非法盗链、转载和使用,违者必究。如需使用,请与010-84883561联系;凡本网注明"来源:XXX(非英语点津)"的作品,均转载自其它媒体,目的在于传播更多信息,其他媒体如需转载,请与稿件来源方联系,如产生任何问题与本网无关;本网所发布的歌曲、电影片段,版权归原作者所有,仅供学习与研究,如果侵权,请提供版权证明,以便尽快删除。