Egg on my face
中国日报网 2022-11-24 13:35
分享到微信 Reader question:
Please explain this sentence, particularly "egg on my face": As a result, I ended up with egg on my face, but hopefully, this story helps.
My comments:
As a result, "I" felt greatly embarrassed. Hopefully, we can all learn from it.
Clearly, we're talking about something the speaker said or did, which left him or her feeling embarrassed. They felt they had made a fool of themselves.
But, on a positive note, the speaker says, hopefully, people will be able to learn a lesson from this.
The phrase in question is, of course, egg on my face.
Literally, while eating, if you get crumbs of egg on your face, you don't look good. And suppose you don't notice it. Suppose you don't remove the egg on your face. Suppose you go straight to a press conference wearing messy egg crumbs on your face.
Well, you get the picture.
Metaphorically, likewise, if you do something that leaves with egg on your face, you embarrass yourself.
As an expression, "egg on one's face" could have derived from the dining table, as it literally does happen to any of us from time to time. Or it could've derived from the fact that sometimes, especially in the old days, people throw eggs toward bad actors on stage in theater. Or it could've derived from the public hurling eggs or tomatoes at politicians making a speech they didn't want to hear.
Or this additional explanation per CulinaryLore.com:
Farmers and others who live in rural regions of the United States say that the expression came from dogs who would sometimes sneak a snack of eggs from the henhouse and then walk around with egg on their face, displaying the evidence for all to see.
Plausible.
Thing to remember is, this can happen to anyone, figuratively speaking. And here are recent media examples:
1 The 2021-22 season ended, giving way to some much-needed vacations, which are being enjoyed by the majority of footballers who have their future tied up for next season. One such player is Lionel Messi, who will continue to wear the Paris Saint Germain jersey for the second season.
But, the Argentine ace misses Spain, and that is why he has taken advantage of the summer period to visit it, doing so in Ibiza, where he is enjoying a few days with his wife, Antonela Roccuzzo, and their children. This is an opportunity that has also led him to be in the audience at the Ushuaia Festival, where he was with his former teammates, Cesc Fábregas and Luis Suárez, and their respective partners.
But on the Balearic island not only did the famous number 10 have time to party and rest, but he has also allowed himself the chance to taste a food dish with his name on it, something he then shared through his social media account. The name says it all: 'Messi Burger'.
Far from opting for a more sophisticated, Michelin-star restaurant, the former Barça player decided to dedicate one of his meals to his latest collaboration with Hard Rock Café, a hamburger that has all the Argentinian's favorite ingredients.
The 'Messi Burger' is a reissue of the Hard Rock Café Steak Burger. It is made up of two discs of high-quality minced meat, seasoned and braised, with provolone cheese, sliced Spanish chorizo, caramelized onion red sauce, tomato, romaine lettuce, a smoked sauce and another spicy one.
All of this is served on a toasted brioche bread and accompanied by a cup of crisps. In addition, you have the option of topping it off with a fried egg, just as Messi himself has chosen on this occasion. Just as he has left defenders and goalkeepers with egg on their face, he was readying himself for a similar fate.
- Messi pays homage in Ibiza by trying a dish with his name on it, AS.com, June 30, 2022.
2 Liberal CNN anchor Jake Tapper's ratings-deficient primetime show is being officially canceled after the midterm elections and he will return to his old show on the network with egg on his face.
Tapper will return to "The Lead" at 4 pm EST on weekdays following the red wave expected to sweep the elections, ending his primetime run in the "special lineup" the network announced in September to cover critical midterm elections.
"As part of a special lineup, Jake agreed to anchor the 9 pm hour through the midterm elections," a CNN spokesperson told Fox News Digital. "At the completion of that schedule, he'll be returning to his award-winning program 'The Lead.' We will announce post-election plans for that time slot in the coming days."
"CNN Tonight with Jake Tapper" debuted on Oct. 10 with what was thought to be an all-star lineup including President Biden and actor Dwayne "The Rock" Johnson. It pretty much flopped with only an average of 854,000 viewers. That number was a distant third behind Fox News' "Hannity" with 2.6 million viewers and MSNBC's "Alex Wagner Tonight" with 1.6 million viewers. Since then, it has been downhill for the CNN star.
The new CEO of CNN, Chris Licht, envisioned Tapper as being the "new face" of the network as he attempted to make it more nonpartisan following years of leftist coverage that wallowed in bashing former President Trump. Unfortunately, his hopes were dashed as Tapper's viewership tanked.
- Jake Tapper's CNN primetime flop to end after midterms, BizPacReview.com, November 3, 2022.
3 Rep. Marjorie Taylor Greene (R-GA) was left with egg on her face on Thursday after her latest tweet bemoaning the speed of American elections went amusingly awry.
The hardline MAGA lawmaker, who won re-election in her midterm race on Tuesday, has spent the last few days fulminating about how long it takes to count ballots, advocating instead for "simple safe legal elections" to protect voting integrity and "and keep everyone from being 'election deniers.'"
"I'm sure our enemies are quacking [sic] in their boots while we are still over here trying to count ballots," she tweeted Thursday morning.
Weirdly, the congresswoman appeared to acknowledge her inadvertent duck-based typo by changing the word "quacking" to "quaking" in a follow-up tweet posted shortly after the first.
But the conspiracy theorist representative chose not to delete the "quacking" version of the tweet, with the ducked up post receiving around three times as many comments and twice as many likes as the corrected version on Thursday.
Marjorie Taylor Greene's Super Serious Election Tweet Backfires, Goes Viral, TheDailyBeast.com, November 10, 2022.
About the author: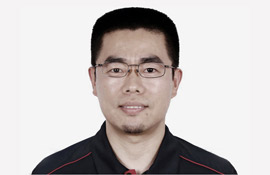 Zhang Xin is Trainer at chinadaily.com.cn. He has been with China Daily since 1988, when he graduated from Beijing Foreign Studies University. Write him at: zhangxin@chinadaily.com.cn, or raise a question for potential use in a future column.
(作者:张欣 编辑:yaning)
中国日报网英语点津版权说明:凡注明来源为"中国日报网英语点津:XXX(署名)"的原创作品,除与中国日报网签署英语点津内容授权协议的网站外,其他任何网站或单位未经允许不得非法盗链、转载和使用,违者必究。如需使用,请与010-84883561联系;凡本网注明"来源:XXX(非英语点津)"的作品,均转载自其它媒体,目的在于传播更多信息,其他媒体如需转载,请与稿件来源方联系,如产生任何问题与本网无关;本网所发布的歌曲、电影片段,版权归原作者所有,仅供学习与研究,如果侵权,请提供版权证明,以便尽快删除。