It blew his mind? 大吃一惊
中国日报网 2022-11-15 11:33
分享到微信 Reader question:
Please explain this sentence, particularly "blew his mind": He read the news online and it blew his mind.
My comments:
The news, whatever that is, shocked him, leaving him in disbelief, confusion, amazement or whatever, as the case may be.
It blew his mind means, that, as a result, he couldn't think normally or properly.
It's not dissimilar to what happens after he drinks a lot of alcohol and becomes dizzy and loses control of his mind.
Not dissimilar but even worse, as it may be.
It's as if he were drugged. It's as if he took marijuana or cocaine or something stronger and complete lost his mind
As a matter of fact, mind-blowing as an idiom came into wide use in the 1960s, coinciding with the spread of drug use in America, as IdiomOnline explains:
Initially used in reference to drugs, this idiom uses blow in the sense of "blow up" or, in other words, explode.
Yeah, like a mini bomb has exploded in your head, completely destroying your brain.
Perhaps that sounds too dramatic. Now, let's read a few media examples of real people who experience something that blows their mind:
1 Bradley Cooper reveals the Lady Gaga scene in A Star Is Born that really blew his mind.After building a career as an actor, Cooper turned to directing for the first time with the 2018 film, one of several to adapt the same story over the course of Hollywood's history. He starred in it across from Lady Gaga, and the project proved an enormous success with critics and audiences alike, earning multiple Oscar nominations.
Gaga's role in the movie was a key draw in its early marketing, given her profile as a singer/songwriter and sparse filmography, and her performance proved to be one of the most acclaimed elements of A Star Is Born. She was nominated for the Academy Award for Best Actress, and though she ultimately lost out to Olivia Colman for The Favourite, she did take home the golden statuette for Best Original Song for "Shallow." As is tradition for the nominees in that category, Gaga and Cooper performed the song together live at the ceremony, and their obvious chemistry made it an obvious highlight of the broadcast.
While viewers fell in love with her performance in A Star Is Born, Cooper had the opportunity to watch her work up close throughout the shoot, and he has one specific moment that impressed him the most. In a discussion with director Ridley Scott set up by Variety, he recalls when they filmed the scene in which his musician character first brings hers up on stage at his concert, which ends up becoming the first big step on her ascendant career. Even though Lady Gaga is a veteran of concert performances in her own life, Cooper says he truly believed she was stepping out on that stage for the first time, which genuinely blew his mind. Check out his full quote below:
For me, working with her, I can remember the thing that blew my mind that seems simple, but I thought it was a tall order, is when my character brings Ally, the character she plays, on stage for the first time. I truly believed that that person had never been on a stage before. And I remember thinking, 'How is she pulling this off, that I actually believe – on every level, as the director, as the character – that this person has never been in front of 20,000 people before?' That was really kinda mind-blowing.
- Bradley Cooper On The Lady Gaga A Star Is Born Scene That Blew His Mind, ScreenRant.com, December 17, 2021.
2 Michelle Yeoh promises "Everything Everywhere All At Once" is like nothing you've seen before.
The actress opened up about the mind-bending film in an interview with Entertainment Weekly for their digital issue cover story.
"When I read the script, it blew my mind.I had no idea what it was all about. There was no one singular way to look at it," she revealed. "So I wanted to meet the Daniels, so they could explain to me what the heck they were thinking when they wrote that."
When it came to the young directors, Daniel Kwan and Daniel Scheinert, she had nothing but praise for them.
"I love finding new young directors to work with because they think out of the box, they think so differently. I'm an old dinosaur," she admitted. "After the first meeting, I thought 'these guys are evil geniuses.'"
The directors had equal praise for the martial arts movie veteran as they had written the role of Evelyn Wang with Yeoh in mind.
"We grew up on those Hong Kong action movies," said Scheinert. "We couldn't imagine anyone other than her playing the part, and that was very scary."
Working on the film may have been even scarier for Yeoh who admitted that every day on set, she had no idea what would happen.
"Every day when I walk on the set, I look at my directors and go 'you know I don't know what's happening, right?'" The actress laughed. "They would go like 'don't worry, don't worry. We'll walk you through it.' You would go like 'oh shoot, I am in serious trouble again.' But it was great."
- Michelle Yeoh Says 'Everything Everywhere All At Once' Script 'Blew Her Mind', ETCanada.com, February 24, 2022.
3 It's no secret Jim Carrey is a fan of metal music, and the famed comedic actor has attempted to incorporate the genre into his work over the years. Most famously, Carrey was a pivotal part of Cannibal Corse's inclusion in Ace Ventura: Pet Detective, and he enjoys life on the louder side.
The death metal group made a cameo in the 1994 film and got to perform their track 'Hammer Smashed Face', which introduced the band to a whole new audience. If it was up to Carrey, their role in the film would have featured Cannibal Corpse more prominently, and he begged the producers to allow them to play more songs, but unfortunately, his wish wasn't granted.
Speaking to the Tamba Bay Times, Cannibal Corpse singer Alex Webster recalled: "He said he was into some of our stuff. He said he had Butchered at Birth and Tomb of the Mutilated; that's our second and third album. And he was calling out songs by name that he was hoping we would perform for the movie. A couple of the songs that Jim requested, we didn't end up playing, but we did do 'Hammer Smashed Face', and that was the only one that actually made it into the movie."
Carrey's life has put him into some pretty strange situations over the years, but one of the spookiest days is down to his first exposure to Pantera. The comedian was on his way to play a show in San Diego, and his manager introduced him to the group. Then, a bizarre sequence of events occurred, which can only be explained by interference from the cosmos.
"The first time I ever heard Pantera, I was driving down to San Diego to do a concert at a theater and to check in to a hotel," Carrey recalled. "Me and my manager, Jim Miller at the time, we put Pantera on. And I had never heard anything like it."
After the car journey, Carrey couldn't get Pantera out of his head after having his mind blown by their record, which was unlike anything he'd previous heard, and it made him react in a way he'd never done for any other band. Carrey recalled: "And it hit me on such a level of, like, extreme stimulation that I just started laughing uncontrollably for the entire track. Just like nervously laughing, like, 'What is happening right now?'"
After one of the most thrilling car rides of his life, things then got surreal when he arrived at the hotel. Carrey continued: "And then we went to check in to the hotel. The guys behind us in the line checking in to the hotel were Pantera. We turned around and we went, like, 'Are you kidding me? Are you kidding me?' This is too weird, man."\Jim Carrey discusses the one band that blew his mind: "It hit me on such a level", FarOutMagazine.co.uk, July 30, 2022.
About the author: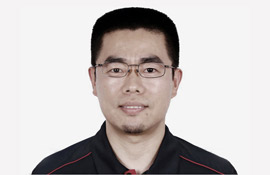 Zhang Xin is Trainer at chinadaily.com.cn. He has been with China Daily since 1988, when he graduated from Beijing Foreign Studies University. Write him at: zhangxin@chinadaily.com.cn, or raise a question for potential use in a future column.
(作者:张欣 编辑:yaning)
中国日报网英语点津版权说明:凡注明来源为"中国日报网英语点津:XXX(署名)"的原创作品,除与中国日报网签署英语点津内容授权协议的网站外,其他任何网站或单位未经允许不得非法盗链、转载和使用,违者必究。如需使用,请与010-84883561联系;凡本网注明"来源:XXX(非英语点津)"的作品,均转载自其它媒体,目的在于传播更多信息,其他媒体如需转载,请与稿件来源方联系,如产生任何问题与本网无关;本网所发布的歌曲、电影片段,版权归原作者所有,仅供学习与研究,如果侵权,请提供版权证明,以便尽快删除。