中国助力全球通胀降温
Nation can help cool soaring global inflation
中国日报网 2023-02-03 17:59
分享到微信 多位分析人士表示,中国通胀率处在较低水平,能够帮助抑制不断飙升的全球通胀。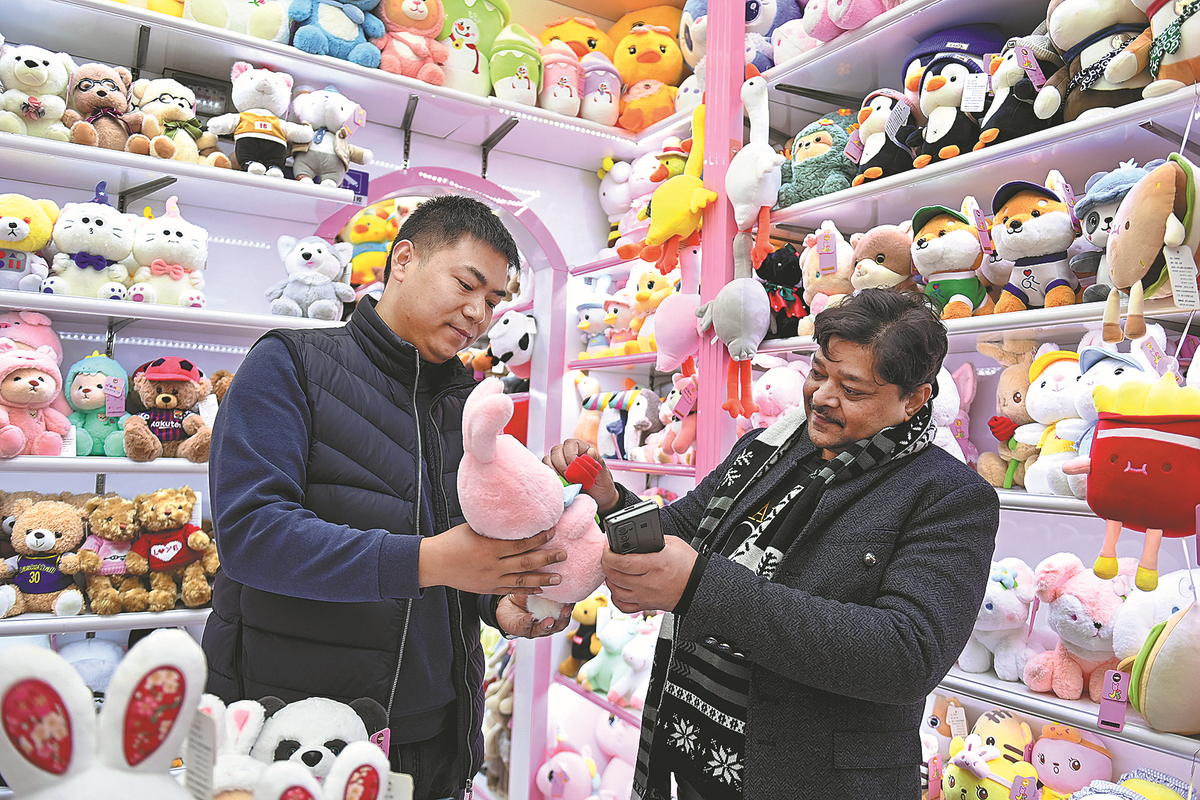 China, with its benign inflation rate, is capable of playing a pivotal role in helping cool soaring global inflation and will continue to ensure strong economic recovery and mild price fluctuations this year, analysts and executives said.
分析师和高管表示,中国通胀率处在较低水平,能够帮助抑制不断飙升的全球通胀,并确保2023年经济强劲复苏,物价水平温和波动。
In marked contrast to major advanced economies, which have been plagued by surging inflation amid rising energy and food prices, China has seen its inflation levels remain low and stable, which, analysts said, provides space for further policy easing to shore up the world's second-largest economy.
主要发达经济体因能源和食品价格上涨而饱受通胀飙升困扰,与此同时,中国通胀水平持续保持在较低水平。分析人士表示,这为进一步放宽政策以提振世界第二大经济体提供了空间。
"Over the past year, many advanced economies witnessed the biggest surge in inflation in 40 years," said Liu Zhicheng, director of commodity market division at the Academy of Macroeconomic Research's market and price research institute. The academy is affiliated with the National Development and Reform Commission, or NDRC, China's top economic regulatory body.
中国宏观经济研究院市场与价格研究所大宗商品研究室主任刘志成表示:"过去一年,许多发达经济体遭遇了40年来最严重的通胀飙升。"
Last year, a number of developed economies, including the United Kingdom and the United States, experienced inflationary whiplash. During the first 11 months of 2022, the inflation rate, as measured by the consumer price index, was 8 percent in the United States, 8.4 percent in the eurozone and 8.9 percent in the UK, sparking public complaints and protests. Some developing countries have also suffered from high inflation.
去年,包括英国和美国在内的众多发达经济体都遭受了通货膨胀冲击。2022年前11个月,通货膨胀率按消费者物价水平衡量,美国为8%,欧元区为8.4%,英国为8.9%,引发了公众抗议。此外,一些发展中国家也遭遇了高通胀冲击。
Both the Bank of England, Britain's central bank, and the European Central Bank were expected to raise interest rates on Thursday to tame high inflation, ease the cost-of-living crisis and avoid falling into recession. The US Federal Reserve increased its key interest rate by a quarter point on Wednesday.
英国央行和欧洲央行于2月2日加息,以遏制高通胀,缓解生活成本危机,避免陷入衰退。2月1日,美联储如期上调基准利率25个基点。
China has had a good record of keeping its overall price levels low and stable. Last year, the country's consumer price index rose by 2 percent year-on-year, according to the National Bureau of Statistics, which was well below the country's inflation control target of around 3 percent.
当前,中国物价稳定保持在较低水平。根据国家统计局的数据,去年,全国居民消费价格指数同比增长2%,远低于3%左右的通胀控制目标。
Notably, China's food inflation rate was 2.8 percent and the cost of water, electricity and fuel rose a modest 3 percent in 2022, both significantly lower than in major Western economies, Liu said.
刘志成表示,2022年中国的食品通货膨胀率为2.8%,水、电和燃料成本小幅上涨3%,均明显低于西方主要经济体。
He attributed soaring inflation across the globe to runaway energy and food prices amid geopolitical tensions and the massive fiscal and monetary easing measures in many Western countries.
他将全球通胀飙升归因于地缘政治局势紧张,此外许多西方国家采取大规模财政和货币宽松措施,导致能源和食品价格失控。
China has managed to deal with imported inflationary pressures with effective measures focused on stabilizing prices of products essential for people's livelihood as well as bulk commodities.
中国采取了一系列有效措施应对输入性通胀,重点稳定重要民生商品和大宗商品价格。
"China's stable price levels are creating an environment that keeps economic performance stable, which also helps tame global inflation," Liu said.
刘志成表示"中国物价水平稳定,为经济稳定提供了基础,这有助于抑制全球通胀。"
While warning of headwinds from imported inflationary pressures and potential fluctuations in commodity prices, Wan Jinsong, director of the NDRC's Department of Price, said China has solid foundations as well as the confidence and capabilities to maintain overall price stability in 2023.
国家发改委价格司司长万劲松表示,2023年尽管国际大宗商品价格可能高位波动,输入性通胀压力仍然存在,但中国物价保持平稳运行具有坚实基础,完全有信心、有能力继续保持物价总体稳定。
Wan said at a recent news conference that the country has sufficient supplies of goods essential for people's livelihood, a stable energy supply and an improved system for ensuring price and supply stability.
近日在新闻发布会上万劲松表示,中国重要民生商品供应充足,基础能源保障有力,保供稳价体系进一步健全。
NBS data showed China's CPI grew by 1.8 percent year-on-year in December, while the inflation rate in the US was 6.5 percent in the same month.
国家统计局数据显示,中国12月CPI同比增长1.8%,而美国同月通胀率为6.5%。
Zhou Maohua, an analyst at China Everbright Bank,estimated that China's CPI will remain at a moderate level this year given the gradual pickup in demand and the country's sufficient supply of daily necessities.
光大银行分析师周茂华估计,随着需求逐步回升和中国生活必需品的持续充足供应,今年中国的CPI将保持在温和水平。
"Unlike many other economies, China has not adopted massive policy stimulus over the past few years," he said. "Given its stable inflation levels, the country has ample room and plenty of policy tools in reserves to support the economy."
他称,"不同于其他经济体,过去几年中国没有采取大规模的政策刺激措施。鉴于其稳定的通胀水平,中国有足够的空间和充足的政策工具储备来支持经济。"
Lu Ting, chief China economist at Nomura, said that his team thinks inflation is not a major concern for China in 2023, and they expect the policy stance to remain accommodative.
野村证券首席中国经济学家陆挺表示,他的团队认为通胀不是中国2023年的主要担忧,他们预计政策将继续保持稳健宽松。
The Chinese Academy of Sciences' Center for Forecasting Science estimates that China's CPI will rise about 1.8 percent in 2023, while the producer price index will decline by about 0.4 percent.
中国科学院预测科学研究中心预计,2023年中国CPI将上涨约1.8%,而生产价格指数下降约0.4%。
Gao Ruidong, chief macroeconomist at Everbright Securities, warned that the robust recovery in consumption of services may add to "structural inflation pressures".
光大证券首席宏观经济学家高瑞东警告称,消费修复过程中,也可能出现一定程度的结构性通胀。
China is taking a more pro-growth stance, giving priority to expanding domestic demand and spurring consumption. The local governments have mapped out detailed plans in an attempt to put growth back onto the fast track.
中国正采取更加有利于增长的措施,优先扩大内需和刺激消费。地方政府已经制定了详细计划,试图让经济增长重回快车道。
On Tuesday, the Beijing Municipal Government released a document on key tasks for 2023, urging more efforts to boost consumption, including spurring consumption in housing, new energy vehicles and elder care.
2月1日,北京市政府发布2023年十大主要任务,敦促加大力度提振消费,包括刺激住房、新能源汽车和养老消费。
There have been initial signs of recovery in consumption thanks to such policies in other provincial-level regions.
得益于其他省级地区的此类政策,消费已经出现了初步复苏迹象。
In Guangdong province, Guangzhou's Beijing Road shopping area achieved a business turnover of 345 million yuan ($51.3 million) in the weeklong Spring Festival holiday, up 19.4 percent year-on-year, official data showed.
官方数据显示,在为期一周的春节假期中,广州市北京路商业街实现3.45亿元人民币的营业额,同比增长19.4%。
Gao said in an article published in China Finance magazine that the country will also likely see a notable rebound in consumption of services, such as transportation, catering, accommodation and entertainment, and prices for services will go up in the post-COVID period.
高瑞东在《中国金融》杂志中表示,疫后交通、餐饮、住宿和娱乐等接触性服务消费可能出现显著反弹,服务价格也会上调。
He said the government should take more steps to keep prices stable, with a key focus on ensuring the supply of food and energy, assisting companies to stabilize employment and promoting the rebound of services industry.
他表示,中国应采取更多措施稳定物价,重点是保障食品和能源供应,协助企业稳定就业,促进服务业回暖。
来源:中国日报
编译:实习生 王露燕 编辑:刘世东
中国日报网英语点津版权说明:凡注明来源为"中国日报网英语点津:XXX(署名)"的原创作品,除与中国日报网签署英语点津内容授权协议的网站外,其他任何网站或单位未经允许不得非法盗链、转载和使用,违者必究。如需使用,请与010-84883561联系;凡本网注明"来源:XXX(非英语点津)"的作品,均转载自其它媒体,目的在于传播更多信息,其他媒体如需转载,请与稿件来源方联系,如产生任何问题与本网无关;本网所发布的歌曲、电影片段,版权归原作者所有,仅供学习与研究,如果侵权,请提供版权证明,以便尽快删除。