Hollywood is gearing up for the Academy Awards, or Oscars, which will be presented later this month. The nominees came together this week for a luncheon, where they talked about his year's Oscar race.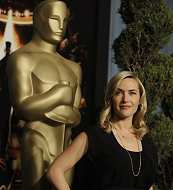 The race for the Oscar statuette has its share of Hollywood veterans and relative newcomers. Kate Winslet is a nominee for Best Actress for her role as a former Nazi guard in The Reader. This is her sixth nomination, her fourth as leading actress, but she has yet to win.
"You know I have been here so many times and lost so many times that quite honesty, you know, I have a really good losing face now, you know. I have sort of perfected that strange, Zen, blank, calm that you have to have, of course, in that moment when they do not call out your name."
Other acting nominees include Angelina Jolie for the crime drama, Changeling, and Anne Hathaway for the romantic tale, Rachel Getting Married. Frank Langella is nominated for his role as former U.S. President Richard Nixon in Frost/Nixon and Sean Penn for Milk, the story of gay activist Harvey Milk.
Oscar veteran Meryl Streep is a nominee for Doubt, a tale of suspected child abuse in the Catholic Church, and Philip Seymour Hoffman is a Supporting Actor nominee for his role in the film. The late Heath Ledger is up for an Oscar as Supporting Actor for his role as the sinister Joker in the latest Batman movie, The Dark Knight. Winslet is impressed with the roster.
"There have been such extraordinary performances by men and women, I really feel like that, across the board. Just to be a part of this global film community in this particular year with this nomination at this time in my life, feels really special."
Mickey Rourke, a Best Actor nominee for the comeback tale, The Wrestler, is making his own comeback with this film.
"Because I was out of work for about 14 years, you know, the fact that so many years went by, and I got a second chance," said Rourke.
Actress Taraji P. Henson has been working in Hollywood for about a decade, and is a first-time nominee for her supporting role in The Curious Case of Benjamin Button. The film's star, Brad Pitt, is a Best Actor nominee for this story about a man who ages backwards. The actress says her road to Hollywood was not easy.
"I had no money. And fresh out of college with stars and dreams, and stars in my eyes and I just remember saying, I want to go to California. I want to really do this. And some thought I was crazy. My mother was like, you are going to starve. But they are all really proud because, I had a dream."
Robert Downey Jr. was a nominee for his supporting role as a self-absorbed Hollywood actor in Tropic Thunder, admits the offbeat role in a comedy-action film is not the surest path to an Oscar nomination.
"There is no way that I could have read the script and said, 'It's Oscar time.' I was just hoping I was not,you know,  shot at the premiere," he said.
Penelope Cruz is nominated for her supporting role in the Woody Allen film, Vicky Cristina Barcelona. The Spanish actress says she would love to win but is pleased with the nomination. This is her second. Her first was for the 2006 Spanish-language film, Volver. "I am so happy to be part of a group of people that can work, that can make a living out of this profession that I have loved so much since I was a little girl, that I really do not want to obsess about winning," said Cruz. "I want to enjoy every part of this great adventure."
The adventure will continue February 22, when the Oscars will be presented in Hollywood.
gear up for: to make or get ready for a future event or situation(做好准备)
out of work:失业
self-absorbed: preoccupied with one's thoughts, interests, etc.(专注于自己想法的)
offbeat: differing from the usual or expected; unconventional(不寻常的)
(Source: VOA 英语点津编辑)