The telecast of the 51st annual Grammy Awards ceremony in Los Angeles is now history.
A rock god and the queen of modern bluegrass - not the most likely pairing under any circumstances, much less the largest stage in U.S. popular music. Nevertheless, on Sunday night, former Led Zeppelin lead singer Robert Plant and Alison Krauss emerged as the evening's highest-profile couple.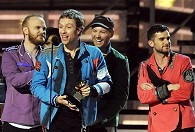 It didn't begin that way. British rock act Coldplay seemed the early favorite to collect on most of its 7 Grammy nominations, winning Best Rock Album honors for Viva La Vida or Death And All His Friends. Accepting the award, Coldplay's lead singer Chris Martin put his band's sound in perspective.
"We're not, of course, the heaviest of tock bands, as you may have noticed, but … we're more of a sort of a limestone kind of rock, you know … a little softer, but just as charming," he said.
Earlier that evening, Chris had performed with rapper Jay-Z, one of several eye-catching pairings during the three-and-one-half-hour telecast.
Others included teen favorites The Jonas Brothers performing with Motown legend Stevie Wonder; Sir Paul McCartney and Foo Fighters' leader Dave Grohl combining for The Beatles' tune "I Saw Her Standing There"; alternative rock favorites Radiohead taking the stage with the University of Southern California Marching Band; and a tribute to Motown favorites The Four Tops featuring Jamie Foxx, Ne-Yo, Smokey Robinson, and "Duke" Fakir, the last remaining original member of the quartet.
Chris Brown and his girlfriend Rihanna were also scheduled to appear, but neither made it to the show. The 19-year-old Brown was arrested Sunday on suspicion of making a criminal threat. He was released after posting $50,000 bail. Rihanna also cancelled her appearance.
Last year, Amy Winehouse took home the Best New Artist trophy, and Sunday saw another English singer, Adele, take the honor. The 20-year-old Londoner bested Welsh soul singer Duffy; U.S, R&B singer Jazmine Sullivan; country act Lady Antebellum; and teen act The Jonas Brothers.
Adele's victory comes amid changing times for the recording industry. While sales of digital singles soar, traditional album sales dropped 14 percent in the past year, and 45 percent since 2000. Neil Portnow, President of the Grammys' parent organization, the National Academy of Recording Arts and Sciences, urged the new U.S. administration to reserve space for artistic endeavors in its plan to re-energize the nation.
"And to our new president, we have a request: our finest national treasure is our culture and the arts. It's also one of the most embraced and economically significant exports all around the world. So it's time that we acknowledge that fact with the creation of a cabinet position of Secretary of the Arts to promote and develop this vital contribution to society everywhere."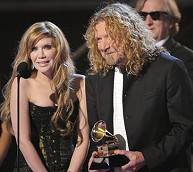 While rapper Lil' Wayne collected on 4 of his 8 nominations and Coldplay made good on 3 of its 7 nominations, Robert Plant and Alison Krauss were the evening's big winners. The 60-year-old former Led Zeppelin lead singer and the 37-year-old bluegrass performer tallied 5 trophies, including Record of the Year for "Please Read The Letter," and Album of the Year, for Raising Sand. Alison is the most-honored woman in Grammy history with 26 wins, placing her third on the all-time list. Robert Plant had never won a Grammy while in Led Zeppelin, although the band did take home a Lifetime Achievement Award in 2005. Accepting the award for Record of the Year, Robert described the humble origins of their collaboration.
"This song, when we started this project together, the whole game was a mystery. We gave ourselves 3 days and we said, 'If it doesn't work, we'll just take lunch and I'll go back to Wolverhampton (England). But we brought this song out, and it's an old song that Jimmy Page and I wrote together post-Led Zeppelin, and it's, it's been given that Nashville touch, and it feels pretty good. Thank you!"
Robert Plant summed up his Grammy experience as "a good way to spend a Sunday" - sentiments likely echoed by the worldwide viewing audience.
Among the telecast's most poignant moments was Jennifer Hudson's acceptance speech for Best Rhythm and Blues Album, in which she thanked her family, both in Heaven and on earth. Last October, Jennifer's mother, brother, and 7-year-old nephew were fatally shot by theestranged husband of her sister.
We will end our look at the 51st annual Grammy Awards with Jennifer Hudson and Spotlight.
high-profile: 引人注目的
estranged:displaying or evincing a feeling of alienation; alienated(疏远的,分居的)
(Source: VOA 英语点津编辑)