As leaders gather to mark NATO's 60th anniversary on the French-German border April 3 and 4, they will also celebrate the full return of one of the alliance's founding members. Nearly half a century after France left NATO's military command, French President Nicolas Sarkozy announced this year it was rejoining. Observers predict France's return will reinvigorate efforts to reform the transatlantic organization.
France is already a major troop contributor and participant in NATO, sometimes commanding key operations of the North Atlantic Treaty Organization. So what difference does France's return to NATO's military command structure make? A lot, says Daniel Korski, senior policy fellow at the European Council on Foreign Relations in London.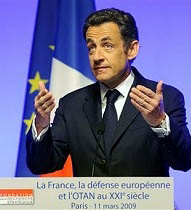 "First of all, it's going to make a large philosophical difference, I mean, for a number of years, although France has been an effective member of the alliance, there has been a sort of French 'non' in the alliance. There are a number of big projects that haven't been able to be pushed through and there's always been a  bit of a sense that France would, would prefer NATO to work a little more slowly and allow for the European community to develop its defense identity. And that's going to be gotten rid of."
Former French president Charles de Gaulle withdrew from NATO's military command in 1966, concerned about America's growing dominance which he feared would erode French independence. The country's current leader Nicolas Sarkozy, who took office in 2007, has hinted for months he wanted to rejoin. In early March he said he would do so.
French analyst Philippe Moreau Defarges:
"Well I think that France wanted to become a member of the club, you know. Being a full member of NATO means that France is now a full member of the club, of the western club and that is very important for France and Mr. Sarkozy. And his government were convinced that it is more efficient to be inside than to remain on the, on the borderline."
Not all French agree. A number of opposition politicians, and even members of Mr. Sarkozy's Union for a Popular Movement party, oppose rejoining the military command. Still, France's lower house passed the motion to rejoin.
There are reports France will be handed at least one key command post, if not two. Meanwhile, experts like Tomas Valasek, at the Center for European Reform in London, predict France's rejoining the core decision making body will give impetus to long-standing calls to reform it.
"France and President Sarkozy have made it clear that they don't want to join the old NATO. That was said partly for political reasons,but he also has a few substantive ideas on his mind."
Valasek says those appear to include reforming the command structure it is rejoining - notably scrapping some of the command posts in NATO states that are relicts from the Cold War era.
But in a recent interview, French Defense Minister Herve Morin appeared to rule out French backing for broadening NATO's missions beyond its traditional borders - another subject of debate. Nor, as Valasek points out, does France's rejoining the military command necessarily translate into sending more troops to Afghanistan - a long-standing demand by Washington to NATO's European members.
What's clear is that France is now a full player in the alliance - even as, analyst Korski says, Germany appears to be a more reluctant one - particularly when it comes to Afghanistan.
"I think what we're seeing over time is the French 'non' is being replaced by a German 'nein' in a number of areas. We're seeing Germany being less interested in supporting the NATO military operation in the south [of Afghanistan] in the way a lot of our allies would like to see. A bit more cautious on the question of NATO reforms, a bit more cautious and weary about some od the restructuring proposed by the US, France and Britain."
But analysts believe these and other differences will likely bepapered over at the NATO summit - when France will be welcomed back as a full member of the organization.
push through: 完成
full member:正式成员国
long-standing:of long duration or existence(长期存在的)
rule out:to remove from consideration; exclude(排除,取消)
translate into:转化为
paper over: to patch up or attempt to conceal (a difference, disagreement, etc.(掩饰分歧、矛盾等)
Related stories:
Sarkozy: France to return to NATO military command
NATO needs changes for next operation
US vice president to meet NATO allies for talks on Afghanistan
(Source: VOA 英语点津编辑)