French President Nicolas Sarkozy officially announced Wednesday that France would rejoin NATO's military command more than 4 decades after leaving it.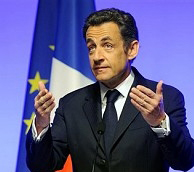 President Sarkozy's announcement was widely expected this week, after the French leader broadly hinted for months that Paris would fullyrejoin the NATO command. Former French leader, General Charles de Gaulle, had withdrawn from the military command in the 1960s, concerned that France would lose its military independence to rising superpower, the United States.
But in remarks at a defence seminar in Paris, Mr. Sarkozy stressed France had nothing to lose, and everything to gain, by rejoining the military command.
The French President said a rapprochement with NATO will increase France's national independence. Not fully being part of the Atlantic alliance, he said, only serves to increase its dependence and limit its margin of maneuver. He said France will be stronger and more influential.
Mr. Sarkozy said France's nuclear arsenal would remain outside of NATO's control -- as is the case with Britain and the United States.
NATO Secretary General Jaap de Hoop Scheffer praised France's move, saying its full participation only strengthened the alliance.
But rejoining has proved controversial in France with the opposition Socialist party, and even members of Mr. Sarkozy's center right Union for a Popular Majority party, opposing the move, fearing France's independence will erode. Still a recent survey found the majority of France backed it.
The French parliament is to debate the decision next week, but is expected to ultimately support it, ahead of a NATO summit marking the alliance's 60th anniversary next month.
rejoin: to come again into the company of(重新加入)
rapprochement:an establishment or reestablishment of harmonious relations(和睦,亲善)
(Source: VOA 英语点津编辑)