The chairman and chief executive officer of auto giant General Motors reportedly has agreed to a request by the Obama administration to resign. The news reports come as the White House prepares to announce on Monday whether it will extend more aid to troubled U.S. automakers in addition to the billions of dollars in loans they already received. President Barack Obama says the auto industry must engage in deeper restructuring to justify further government help.
President Obama is expected to announce plans on the restructuring efforts at General Motors and Chrysler in exchange for additional government loans. Both automakers, which are facing bankruptcy, received more than $17 billion in government aid during theclosing days of the Bush administration. And they have requested more than $21 billion in additional funding.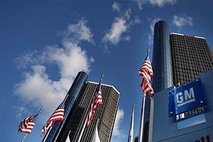 A presidential task force has been reviewing the restructuring plans of both companies to determine whether it is realistic for them to continue operating. General Motors and Chrysler face a Tuesday deadline to submit their own complete restructuring plans.
In an interview on CBS television's "Face the Nation" program, President Obama said that before more public funding is provided, both companies need to further restructure their businesses.
"They're not quite there yet. There have been some serious efforts to deal with a combination of long-standing problems in the auto industry and the current crisis which has seen the market for new cars drop from 14 million [vehicles in annual sales] to 9 million. Everybody's having problems - even [Japanese automaker] Toyota and other very profitable companies. And so, what we're trying to let them know is that we want to have a successful auto industry, U.S. auto industry. We think we can have a successful U.S. auto industry. But it's got to be one that's realistically designed to weather this storm and to emerge at the other end much more lean, mean and competitive than it currently is."
Mr. Obama said that means sacrifices from all parties involved - including management, labor, shareholders, creditors, suppliers and dealers to - in his words, "preserve a brighter future". Government officials say General Motors has failed to reach an agreement on concessions from bondholders and the United Auto Workers labor union.
Treasury Secretary Timothy Geithner told ABC television's "This Week" program that the Obama administration is prepared to provide the financial help needed, if it is convinced carmakers will emerge from restructuring stronger and more competitive.
"It is important to know that we want to have a strong automobile industry. We want it to emerge from this, from this period of challenge stronger. That's going to require a lot of restructuring. We're prepared, as a government, to help that process if we believe it is going to provide the basis for a stronger [auto] industry in the future. It's very important for our country that we have a strong automobile industry going forward."
The Obama administration's desire for a viable U.S. auto industry might include the resignation of one of its major players. According to media reports, the head of G.M , Rick Wagoner, has agreed to step down at the request of the White House, as part of a restructuring plan. Wagoner has been criticized for his handling of G.M.'s declining fortunes, but he has said he intends to stay on.
The automaker has lost more than $80 billion during the last 4 years. Its share price has tumbled nearly 90 percent in value during the past year. General Motors says it will lay off nearly 50,000 employees this year and that it plans to close five assembly plants, eliminate thousands of dealerships and reduce the number of its brands from 8 to 4 - all in an effort to stay afloat.
closing day:末期(或指停业日,结算日)
weather:to bear up against and come safely through (a storm, danger, trouble, etc.(经受住,安全度过)
step down:to relinquish one's authority or control; resign(辞职)
at the request of:依照……的要求
US calls for coordinated global action to repair economy
Obama asks for patience with his economic plan
US lawmakers probe AIG bonuses
(Source: VOA 英语点津编辑)