The recession may be leading to an increase in homelessness in the United States. The latest numbers are not yet in from a recent homeless count in Los Angeles. But those who work with the homeless say a chronic problem is growing worse. And there is some anger among those who are fighting to keep a roof over their heads.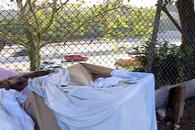 Job losses and home foreclosures have led some to take their anger to the streets. A recent protest in Los Angeles targeted a homebuilder that had entered a partnership with a troubled mortgage lender.
Homeowners who lost their homes came to tell their stories. Most now live in rented houses or apartments.
Others who have lost jobs or housing stay with friends or family. Some live in cheap motels, or in their cars or vans in parking lots. Tent cities have sprung up in some parts of California, including Sacramento and Fresno, as victims of the recession join the ranks of the chronically homeless.
Rebecca Isaacs, oversees the Los Angeles Homeless Services Authority, which coordinates hundreds of programs for the homeless. She says most people who lose their homes do not end up on the streets, but face hard times. "People become temporarily homeless and a family member steps in, or somebody gets a job, or they find another apartment, and the vast majority do resolve their own homelessness. But for those folks who can't, it's really, a very, very tough time right now," she said.
Many homeless in Los Angeles congregate in a downtown neighborhood called Skid Row, where shelters and food programs are concentrated.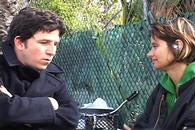 Those living on the streets in the neighborhood of Hollywood can get help from a group called PATH, People Assisting the Homeless. Outreach worker Rudy Salinas says people are living in shelters in ravines, in the hills, or behind bushes along the sides of freeways.
"L.A. Is a community where everybody drives to work and basically the only homeless they may see is at the end of the freeway or panhandling somewhere. But when you go into the places like the ones we go to, when you go up to the hillside encampments, when you go underneath the bridges and into the actual structures of the buildings, you run into many, many people that we see week to week," Salinas said.
His colleague, Courtney Kanagi, recently got a ride a fire department helicopter to search for small encampments in the hills. She says there were many. "We were able to go up one afternoon with them and we were able to place homeless encampments, here in Hollywood, near the Hollywood Bowl and on both sides of the 101 freeway, places that we never would have found," he said.
Each day, outreach workers make the rounds of the encampments, including one overlooking the Hollywood Freeway. One 4-meter-long shelter is attached to a link fence, and is made of cardboard and plastic sheeting. The outreach workers offer food to anyone inside.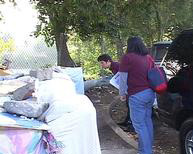 No one responded, but a man in another makeshift shelter welcomes the food and hygiene kit.
Missions and other charities offer meals to the homeless, and some provide temporary shelter. Outreach workers say there are plenty of food programs, but not enough shelter beds. 39 year old Jerry Simeone was lucky to get one. He lost his job in Boston and came to Los Angeles in the hope of finding work.
"There was no job, so I got myself in a little bind. And that money that I had got spent. I stayed with a friend for a couple of months and I got homeless. And I'm in this situation, but I'm being helped right now," he said.
He gets food and a place to stay, and does chores around the shelter, which PATH operates. He hopes to get a job in the movie business.
But the entertainment industry has also suffered in the downturn, and near a Hollywood landmark, the Capitol Records building, Australian Marcus Proctor has come for food. He is one of dozens in line for hot coffee and breakfast. Proctor sleeps outdoors as he looks for work as an actor. He performs in plays and low-budget films, but says it isn't easy.
"It is hard to get a job, so I haven't found one yet, like a paid job. But I'm very into my acting, so I'd rather be on the streets and pursue my acting than get a  full-time boring job and become brain-dead," he said.
With a bad economy, any job is difficult to get. And many chronically homeless suffer from addiction or psychiatric problems.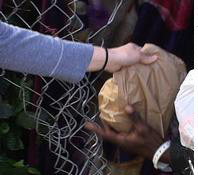 In the city of Santa Monica, some get help from an organization called OPCC, formerly known as the Ocean Park Community Center. René Buchanan is volunteer coordinator at one of the group's shelters. The former bank manager was once homeless herself after a struggle with depression and release from a hospital. She says the experience, while hard, taught her compassion.
"It helped me realize something that, it's my hope, everybody in this country will eventually realize, that just because someone is homeless doesn't mean that they are any less of a person. They just happen to be somebody who is experiencing homelessness at that point in time," she said.
John Maceri, executive director of OPCC, says Santa Monica is making a dent in the problem by coordinating services, with cooperation from police, city officials and private agencies.
The final numbers have not been tabulated for the recent homeless count throughout Los Angeles. The previous figures showed about 70,000 people without permanent shelter, making this urban center the nation's homeless capital. Los Angeles County has just 15,000 beds in temporary shelters.
Outreach workers say homelessness is tied to other social problems and the solution must be comprehensive: better access to medical care and social services for addiction and alcoholism, and a better social safety net for those who lose their jobs or homes. Most of all, they say cities like Los Angeles need more affordable housing for people at the bottom of the economic ladder, who are most vulnerable in times of recession.
congregate:to come together; assemble, esp. in large numbers(聚集)
panhandle:to accost passers-by on the street and beg from them.(行乞)
outreach worker:社工人员(为急难者提供援助,社工团体主动前往探视了解,称为outreach,派出去的社工人员就是outreach worker)
makeshift:suitable as a temporary or expedient substitute(临时的,权宜的)
in a bind:处于困境
make a dent in:to show initial progress; pass an initial stage of (work, thought, solving a problem, etc.(取得初步成效,有初步进展)
Jobless figures add to US economic gloom
It's get-off-the-couch time in America
'March Madness' betting runs rampant in American offices
(Source: VOA 英语点津编辑)