The United States Monday said it welcomed a conciliatory Iranian statement about possible new talks with world powers on its nuclear program. But the State Department says it remains skeptical that Iran's nuclear program is peaceful.
The State Department is welcoming Iran's apparent willingness to renew a nuclear dialogue with major world powers. But it seems the owners remains on Iran to prove its certains that it is not seeking nuclear weapons.
The Iranian state news media reported Monday that the Tehran government's chief nuclear negotiator Sayi Jalili had spoken by telephone with European Union chief diplomat Javier Solana over the weekend.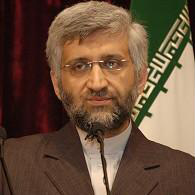 Jalili is said to have told Solana Iran would welcome dialogue on "constructive cooperation" on the nuclear issue with the 5 permanent U.N. Security Council member countries and Germany, the P-5 Plus 1.
Last week, the Obama administration said it was ready to take full part in the big power dialogue with Iran, a break with its predecessor which had insisted that Iran first suspend uranium enrichment.
At a news briefing Monday, State Department Acting Spokesman Robert Wood said the United States welcomes the fact Iran is interested in dialogue but is skeptical about Iranian professions of peaceful nuclear intent. 
"We want to deal with Iran on this issue. It's an important issue to the international community, and Iran needs to show the international community that its nuclear program is a peaceful one. Right now the international community is very skeptical about that. But as I've said, we want to directly engage Iran on a range of issues. And we encourage Iran to come forward and provide the international community with all the assurances that it requires, and to be convinced that Iran is pursuing a peaceful nuclear program."
Wood said a "sincere offer" by the P-5 Plus 1 to provide Iran with a "substantive package of incentives" to stop enrichment and return to negotiations remains on the table.
The enhanced sanctions package, presented by the 6 powers at a meeting in Geneva last July, was spurned by Iran, which said it has a right to pursue its enrichment drive as part of a peaceful nuclear program.
A senior State Department official said no date has been set for a P-5 Plus 1 meeting with Iran and that despite the latest Iranian comments, he did not think one is imminent.
He said if one (meeting) is held, it would likely be at the so-called "political director" level and involve, on the U.S. side, Undersecretary of State for Political Affairs William Burns and not Secretary of State Hillary Clinton.
conciliatory:tending to conciliate: a conciliatory manner(和解的)
on the table: 公开地
spurn:拒绝,摒弃
imminent:即将到来的
US to join big-power nuclear talks with Iran
US envoy to push goal of two-state solution
US, Russia to reopen nuclear talks
(Source: VOA 英语点津编辑)