Children from across the United States took part Monday in an annual rite of spring: the White House Easter Egg Roll. It is a special holiday celebration for the young and the young at heart.
The White House South Lawn is often a place for pomp and protocol.
It is the starting point for state visits complete with red carpets and marching bands.
30,000 participants
But on Easter Monday, it belongs to the young.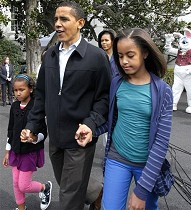 Roughly 30,000 children and their parents from across the country were able to get tickets through the Internet for this year's White House Easter Egg Roll.
They got an official welcome from President Barack Obama.
"This is one of the greatest White House traditions because it reminds us that this is the people's house!" the president said.
Event dates back to 1800s
The tradition goes back to 1878. It began with races on the White House lawn, where children pushed painted Easter eggs with big spoons.
Those races continued under the new president. But there were other activities as well, designed to promote a healthy lifestyle. First Lady Michelle Obama said they all fit this year's theme: "Let's go play!"
"Oh, we have got basketball, a little, a little soccer as well, and we want everybody to think about moving their bodies!" the first lady said.
There was also a place where children could just sit and listen and let their imaginations roam.
"Where the Wild Things Are. The night Max wore his wolf suit and made mischief of one kind and another ..." president Obama explained.
Obama girls have a new puppy
It was a spot near the trees that frame the South lawn, where books borrowed from a local library were read aloud. The president took a turn, [reading from the popular children's book "Where the Wild Things Are" by Maurice Sendak] as did the first lady, with daughters Malia and Sasha nearby.
Not present at the event was the latest addition to the first family, a puppy named Bo. The new first pet, a Portuguese water dog, is expected to make his public debut on Tuesday.
the young at heart:活跃的人,兴致很高的人
Easter Egg Roll: 复活节滚彩蛋,是西方复活节的一种风俗。人们相信,彩蛋在地上来回滚动可以使恶魔不断惊颤、倍受煎熬。这种风俗历史悠久,鸡蛋是复活节的象征,因为它预示着新生命的降临,相信新的生命一定会从中冲脱出世。
make mischief:挑拨离间
debut:a first public appearance(初次露面)
It's get-off-the-couch time in America
TV series teaches children around world to read
(Source: VOA 英语点津编辑)