Former South Korean President Roh Moo-hyun has died in an apparent suicide. Mr. Roh fell to his death Saturday from a mountain cliff. The former president was facing an intense corruption investigation.
A lawyer for Mr. Roh's family says the former head of state left a brief note about his mental anguish Saturday before taking his own life. Moon Jae-in, a former aide, says Mr. Roh apparently jumped from a mountain cliff Saturday during an early morning hike. He died of injuries soon thereafter.
Mr. Roh and members of his family have been under investigation for allegedly receiving millions of dollars in bribes from a business executive. In his apparent suicide note, Mr. Roh requested he be cremated and be remembered with a small stone monument in his rural home village.
Roh: "Don't blame me"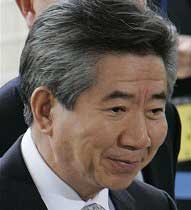 The note says the former president could no longer even concentrate on reading a book, and added, "don't blame me, life and death are the same."
Mr. Roh testified for more than 10 hours last month in the corruption investigation. Prosecutors were giving serious consideration to issuing a warrant for the former president's arrest.
President campaigned on clean government
The scandal was a painful irony for Mr. Roh, who won election in 2002 on a campaign of clean and transparent government. He expressed shame and apologized publicly to South Korean citizens at the site of last month's testimony.
Average South Koreans are shocked, and mixed in their reaction to the news. 30-year-old Yun Hye-yun says it was an irresponsible thing to do, as the president of a nation, especially South Korea, where suicide is a major social problem. Still, she says she can partially understand why he did it, as a means to assume responsibility for the whole family's wrongdoing.
59-year-old Jeon Su-young describes the suicide as "unbelievable, impossible." He says Mr. Roh must have suffered so much. Even though the authorities wanted to get to the truth, he says, things should not have turned out this way.
It remains to be seen how South Koreans, especially supporters of Mr. Roh, will behave as they emerge from shock. Some political observers are predicting a backlash against prosecutors, and possibly public demonstrations.
take one's own life: 自杀
cremate: to reduce (a dead body) to ashes by fire, esp. as a funeral rite(火葬)
backlash:a strong or violent reaction, as to some social or political change(强烈反对)
Report says young still most prone to suicide
US army suicide rate continues to rise
Pakistan's Bhutto assassinated in suicide attack
(Source: VOA 英语点津编辑)