Pakistani opposition leader Benazir Bhutto was assassinated Thursday, throwing the country into deeper political turmoil.
The assassination has cast doubts on whether Pakistan would go to the polls on January 8, as scheduled.
Police said a man fired at her as she was leaving an election rally in Rawalpindi before blowing himself up.
Bhutto ducked after hearing the shots but one bullet hit her in the neck and a second in her chest.
Police said 16 other people were killed in the blast at the election rally in a park.
"She has been martyred," said her Pakistan People's Party (PPP) official Rehman Malik.
The 54-year-old former prime minister was rushed to hospital, but died of her injuries despite an emergency surgery.
A witness said he heard two shots moments before the blast. Another witness saw bodies and a mutilated human head strewn on a road alongside the park.
Pakistani President Pervez Musharraf said "This cruelty is the work of those terrorists with whom we are fighting,"
He has declared three days of mourning.
Bhutto escaped an earlier suicide attack when a bomber blew himself up, killing nearly 150 people, on October 19 as she paraded through the southern city of Karachi on her return from exile.
Islamic militants were blamed for that attack, but Bhutto had said she was prepared to face the danger to help the country.
In her speech Thursday, Bhutto spoke of the risks she faced. "I put my life in danger and came here because I feel this country is in danger. People are worried. We will bring the country out of this crisis," Bhutto told the rally.
People cried and hugged each other in front the hospital where she died.
Another opposition leader and former prime minister Nawaz Sharif spoke to the crowd. "My heart is bleeding and I'm as grieved as you are," he said.
Questions:
1. When is Pakistan expected to go to the polls?
2. Where did the assassination of the opposition leader take place?
3. How old was the former prime minister?
Answers:
1.January 8, 2008.
2.At an election rally in Rawalpindi.
3.54-years-old.
(英语点津 Celene 编辑)
About the broadcaster: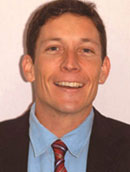 Brendan is an Australian who has been involved in education and writing for over a decade. He has published most recently for the Tiger Airways Inflight magazine, The Bangkok Post, The Taipei Times and Japan's Hiroshima Outside Magazine. He holds a Masters Degree in Community Development and Management and has resided in China for over 3 years.