Conservative parties across Europe are cheering their victory, following four days of voting for the E.U. Parliament that resulted in heavy losses for the left.
Governing parties in a dozen European countries began the week on a down note, after suffering humiliating defeats in the European parliament elections. That included Britain, where the ruling Labor party marked its lowest score in decades, with about 16 percent of the vote. British Prime Minister Gordon Brown was scheduled to meet later Monday with parliament members from his party.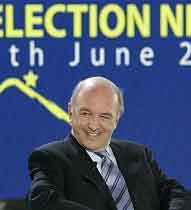 Governing conservatives in France, Germany, Italy and Poland emerged winners in the voting to select the European Parliament's 736 deputies.
Leftist lawmakers like Martin Schulz, president of the parliament's Socialist group, say they are bitterly disappointed with the results.
Schulz says the vote marks a sad period for socialists in Europe. But he says the themes of the left - social values, more market regulation and fighting climate change - are as relevant as ever.
Analysts say voters wanted to punish the left for what they perceived as its inadequate response to the financial and economic crisis. Domestic issues also topped the agenda in countries like Britain, where the already unpopular Labor party is reeling over a scandal over lawmakers' perks.
In some countries, such as Italy, Britain and the Netherlands, far-right parties running on anti-immigration and Euro-skeptic platforms scored gains in the elections, as did the Greens party in France. But voter apathy ruled the day, with only 43 percent of Europeans casting their ballot - a record low.
EU lawmaker Francis Wurtz of France says the rate of voter abstention showed lack of confidence in the European Union. Polls indicate many Europeans have little faith in the European Union and believe EU parliament members are overpaid and detached from their daily problems.
far-right: 极右派,极端保守主义
Euro-skeptic:反对欧盟整合及英国加入欧元的
Europeans wrapping up parliament elections
EU seeking energy independence from Russia
EU economy worse than predicted
(Source: VOA 英语点津编辑)