The European Union has signed an agreement with four nations to move ahead on creating new gas pipelines to reduce its energy dependence on Russia.
The European Union signed the new energy deal during a summit in Prague with 4 countries - Egypt, Turkey, Azerbaijan and Georgia. The agreement aims to help pave the way toward creating a series of gas pipelines from central Asia and the Middle East through Turkey and into Europe.
Two of the countries which signed the deal, Azerbaijan and Egypt, are gas rich. Two others, Turkey and Georgia, would host the pipelines carrying the gas. Europe hopes that one of the planned pipelines, known as Nabucco, will be up and running by 2014.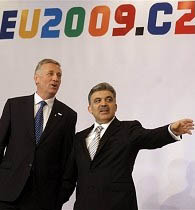 At a press conference in Prague, European Commission President Jose Manuel Barroso hailed the agreement.
"We have shown European Union opinion is serious about this project. We will provide the legal, financial, political framework for companies to do their business. Energy is a traded commodity, but it is important also the political input we put into this project."
The agreement aims to help Europe diversify its energy sources. Right now, 25 percent of its gas comes from Russia. And that has created problems - like in January, when a gas pricing dispute with Ukraine cut energy supplies and left a number of Europeans without heat.
But 3 other countries that attended the summit, Kazakhstan, Turkmenistan and Uzbekistan, have reportedly not signed onto the agreement. Still, Europe is pushing ahead, hoping parties to the Nabucco pipeline will seal a deal with Turkey by June.
Turkey, which hopes to join the European Union, threatened in January to block Nabucco, citing a lack of progress on its talks on EU accession, but on Thursday it voiced full support for the project.
The draft joint statement also calls for progress on ITGI, a Turkish-Greek gas pipeline taking gas to Italy, and for an extension of an oil transport system between Kazakhstan and Azerbaijan that "could be developed in the Mediterranean and the Black Sea region."
hail:to acclaim; approve enthusiastically(向...欢呼,欢迎)
seal:批准,签署
joint statement:联合声明
Russia to resume gas deliveries to Europe
EU condemns Russia over Georgia action
EU economy worse than predicted
(Source: VOA 英语点津编辑)