U.S. President Barack Obama says the presidents of Pakistan and Afghanistan are committed to the fight against extremists in their troubled region. Mr. Obama spoke after his first summit with Afghan President Hamid Karzai and Pakistani President Asif Ali Zardari.
President Obama said the leaders of all three countries have a mutual goal -- to defeat extremists and terrorists. "I am pleased that these two men, elected leaders of Afghanistan and Pakistan, fully appreciate the seriousness of the threat we face and reaffirmed their commitment to confronting it," he said.
Taleban and al-Qaida forces have made gains in Pakistan and Afghanistan recently, threatening the stability of both countries.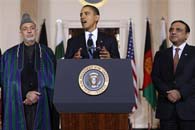 Mr. Obama said Presidents Karzai and Zardari agree with him that they must go after the extremists while limiting civilian casualties. "I also made it clear that the United States will work with our Afghan and international partners to make every effort to avoid civilian casualties, as we help the Afghan government combat our common enemy," he said.
Earlier, Secretary of State Hillary Clinton said the United States deeply regrets the deaths of Afghan civilians who are reported to have died in a U.S. bombing raid on Monday.
Mr. Karzai said he is grateful for her statement. "We appreciate that. And we hope we can work together towards reducing and eventually completely removing the possibilities of civilian casualties, as we move ahead in our war against terrorism," he said.
President Karzai also said he hopes to reduce years of tension with Pakistan. "Pakistan and Afghanistan are conjoined twins. Our suffering is shared. Our joys are always shared," he said.
Pakistani President Zardari, whose wife, former Prime Minister Benazir Bhutto, was assassinated, said he also shares a desire to advance democracy and fight terrorism. "Democracy will avenge the death of my wife, and thousands of other Pakistanis and citizens of the world," he said.
Lower-level officials from all three countries will meet on Thursday to discuss military and economic cooperation.
civilian casualty: 平民伤亡
conjoined:joined together, united, or linked(结合的,联合在一起的)
avenge:to take vengeance on behalf of(替...报仇; 为...雪耻)
Gates says US-Iran contacts will be open
Gates calls on Pakistan to do more to fight Taliban
US envoy launches Mideast peace mission
(Source: VOA 英语点津编辑)