President Barack Obama's point man in the Middle East is on his third peace mission to the region.
U.S. envoy George Mitchell is in Jerusalem, meeting for the first time with senior officials of the new Israeli government led by Prime Minister Benjamin Netanyahu. Mitchell said there is only one way to advance the peace process.
"U.S. policy favors a two-state solution which would have a Palestinian state living in peace alongside the Jewish state of Israel," Mitchell said.
Mitchell spoke after meeting Israel's ultra-nationalist Foreign Minister Avigdor Lieberman.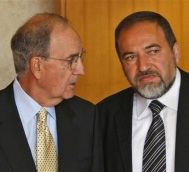 "We spoke about really close cooperation and we are looking forward for the next meeting and for some really deep dialogue," Lieberman said.
But deep differences are already emerging. Mr. Netanyahu opposes a Palestinian state on grounds that it would be a grave threat to Israel's security. And Lieberman, who is known for being blunt, recently said that U.S.-sponsored peace talks have hit a "dead end." He told Mitchell that Israel wants to focus on building up the Palestinian economy, instead of thorny issues such as the status of Jerusalem, Palestinian refugees and final borders.
Palestinian President Mahmoud Abbas rejects that and says he will not resume peace talks with Israel until Mr. Netanyahu endorses a two-state solution and halts settlement expansion in the West Bank. Mitchell will meet with Mr. Abbas on Friday in the West Bank.
two-state solution: A two-state solution envisions two separate states in the Western portion of the historic region of Palestine, one Jewish and another Arab to solve the Israel-Palestine conflict.(两国制;即在地中海东岸至约旦河西岸的这片土地上建立一巴一以两个国家,巴勒斯坦阿拉伯国和以色列犹太国平等共处。)
ultra-nationalist:极端民族主义者
grave: threatening a seriously bad outcome or involving serious issues; critical(严重的)
dead end:a position that offers no hope of progress; blind alley(僵局,死胡同)
thorny:full of difficulties, complexities, or controversial points(棘手的,多障碍的)
US envoy to push goal of two-state solution
Clinton tells Israel two-state solution inevitable
Obama reaches out to Muslim world
(Source: VOA 英语点津编辑)