Secretary of State Hillary Clinton announced on Wednesday a multi-pronged US effort to curb Somali-based maritime piracy. Among other things, the United States will move to track and freeze assets of pirate gangs, and press Somali authorities to shut down pirate land bases.
Clinton says she hopes the surge of piracy in recent days, including attacks on two U.S.-flagged vessels, will be a catalyst for concerted action against pirates and bring an end to the acceptance of ransom-paying as a cost of doing business for shippers off the African east coast.
At the State Department, Clinton said the Obama administration intends to work diplomatically to tackle the piracy problem and to deal with the underlying instability in Somalia that gives rise to it.
She said she is sending an envoy to a conference on Somali peacekeeping and development that opens on April 23 in Brussels, and is calling a meeting of the more than 30-nation international contact group on Somali piracy to coordinate an expanded international presence in the region to combat the threat.
Clinton said top U.S. priorities include securing the release of ships and crews currently held by Somali pirates, and eliminating the financial payoff of piracy by tracking and freezing the assets of pirate gangs.
"We track and freeze, and try to disrupt the assets of many stateless groups - drug traffickers and terrorists - just to name two. We have noticed that the pirates are buying more and more sophisticated equipment, they're buying faster and more capable vessels. They are clearly using their ransom money for their benefit both personally and on behalf of their piracy. And we think we can begin to try to track and prevent that from happening," she said.
The secretary said the poverty and instability in Somalia that underlie the piracy problem are not being forgotten. But depicting the surge of maritime hijackings as a raging fire, she said you "have to try to put out the fire before rebuilding the house."
Clinton said she has directed U.S. diplomats to engage officials of Somalia's Transitional Federal Government and regional leaders of the autonomous Puntland region, where many pirates are based, to press them to take action against what she termed "armed gangs on the seas".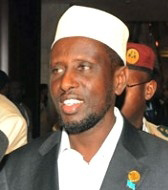 She said the transitional administration's new president, Sharif Sheikh Ahmed, in particular, should be taken up on his expressed determination to curb lawlessness in his troubled country.
"We want to listen to them. The indications are that Sheikh Ahmed, the president of the Transitional Federal Government, understands that these pirates are a threat to the stability and order within Somalia that he is attempting to reassert. We want to hear from him and from other partners in the region what would be useful to help them," she said.
Clinton said the key to the problem is closing pirate land bases and said the United States "has a pretty good idea" where they are located.
She said she assumes that Somali tribal leaders would not like to have the international community "bearing down on them" and that they may be willing to cooperate in ridding their territory of the bases.
Clinton said the Obama administration will convene a high-level U.S. government interagency meeting on piracy this Friday.
catalyst: a person or thing that precipitates an event or change(催化剂,刺激因素)
ransom-paying:支付赎金
give rise to:引起,使发生
autonomous:自治的
US welcomes Iran statement on nuclear issue
US envoy to push goal of two-state solution
Obama: US economy shows glimmers of hope
(Source: VOA 英语点津编辑)