Hours before the deadline for Americans to pay their income taxes, President Barack Obama said his tax policies are helping families and small businesses hard-hit by the recession.
President Obama says he has followed through on his campaign promise to cut taxes for 95 percent of American workers.
"My administration has taken far-reaching action to give tax cuts to the Americans who need them, while jump-starting growth and job creation in the process," he said.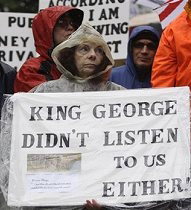 Mr. Obama met at the White House with several families to emphasize his plans to reduce the tax burden on working-class Americans. He also says he has asked his economic advisers to review ways to simplify the tax code.
The president says he knows that April 15 "isn't exactly everyone's favorite date on the calendar," but he hopes his reforms will make the deadline less painful.
"On this April 15, we are reminded of the enormous responsibility that comes with handling the people's tax dollars. And we are renewing our commitment to a simpler tax code that rewards work and the pursuit of the American dream."
As Mr. Obama spoke, a protest was taking place across the street from the White House.
Several hundred people gathered to object to Mr. Obama's tax policies, including Anne Marie Connery, who held a sign reading, "Work Harder, The Government Needs Your Money."
"The people who have worked hard, particularly a lot of small businesses, are the ones that are going to be footing the bill for a lot of the policies that are going to be put in place over the next couple of years, and it's pretty scary," she said.
Similar protests were held across the country, all organized on the Internet by fiscal conservatives.
follow through:坚持到底
far-reaching:extending far in influence, effect, etc(深远的,长远的)
jump-start:发动,迅速重新开始
foot the bill:pay the bill, settle the accounts(负担费用)
Obama receives poll boost in wake of international trip
Obama: US economy shows glimmers of hope
Obama faces tough issues on first overseas trip
(Source: VOA 英语点津编辑)