President Barack Obama wants to crack down on U.S. companies and wealthy investors who avoid federal taxes through offshore business dealings. Mr. Obama unveiled a plan that aims to boost U.S. tax revenue and preserve American jobs.
President Obama says the U.S. tax code is cheating the United States out of good-paying jobs and badly needed funds.
"It is a tax code that makes it all too easy for a number, a small number of individuals and companies to abuse overseas tax havens to avoid paying any taxes at all. And it is a tax code that says you should pay lower taxes if you create a job in Bangalore, India than if you create one in Buffalo, New York."
Many hide monies in Cayman Islands
The president noted that, in the Cayman Islands, for instance, a single address houses thousands of corporations, few of which have a physical presence on the Caribbean islands.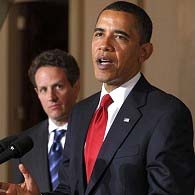 To correct the situation, the president wants to rescind tax breaks that foster job creation overseas, and re-channel funds toward domestic job creation, including new investments in education. Mr. Obama also wants to curb tax advantages for foreign investing, close tax loopholes on offshore business dealings, and boost overall federal tax enforcement.
Appearing with Treasury Secretary Timothy Geithner, the president said he wants U.S. businesses to remain engaged and competitive on the world stage, but that offshore tax havens must be eliminated.
"We will stop letting American companies that create jobs overseas take deductions on their expenses when they do not pay any American taxes on their profits. We will use the savings to give tax cuts to companies that are investing in research and development here at home, so that we can jump-start job creation, foster innovation, and enhance America's competitiveness."
Analyst: proposal is impractical, counterproductive
The president said the proposal will generate $210 billion in revenue over the next 10 years.
The plan is generating few cheers from corporate America. Some business groups complain that the proposed tax changes will impose new costs on U.S. firms and make them less competitive in the global marketplace.
Former Federal Reserve economist Alan Viard tells VOA that efforts to crack down on tax evasion and save American jobs are always politically popular. But he says the administration's proposal will prove impractical and counterproductive when applied to the business world.
"This notion that you do not want U.S. firms going overseas is really a kind of mistake to begin with, because in many cases the operations abroad and the operations at home are actually complimentary to each other. When U.S. firms create jobs abroad, they are often actually expanding opportunities to create jobs in the United States, as well. It does not have to be a choice between the two."
The president's plan will need congressional approval to go into effect.
crack down on: 制裁,镇压
offshore:registered, located, conducted, or operated in a foreign country(离岸的)
tax haven:避税港,指税率很低的国家或地区
rescind:to abrogate; annul; revoke; repeal(废除,取消)
curb:to control as with a curb; restrain; check(控制,约束)
counterproductive:thwarting the achievement of an intended goal; tending to defeat one's purpose(事与愿违的,起反作用的)
US economy contracts at more than 6% annual rate
Obama orders US government budget cuts
Obama promotes tax policies, thousands protest
(Source: VOA 英语点津编辑)