As concerns that swine flu is spreading through the Asia-Pacific region, New Zealand has confirmed new infections and several countries are stepping border protection measures. In Germany, authorities have confirmed the country's first case of the virus.
New Zealand says it has 3 more swine flu cases, in addition to the 11 identified earlier.
Also on Wednesday, Germany confirmed a case of swine flu, which has now been found in Spain, Israel, Canada, Costa Rica and the United States. The virus was first identified in Mexico, where it is suspected of causing more than 150 deaths.
No cases of the disease have yet been confirmed elsewhere in the Asia-Pacific region. In South Korea, several people with flu symptoms are undergoing tests and Chinese authorities are on full alert after several children became ill with symptoms resembling those of swine flu.
In Australia, about 100 people are being tested for the disease and the government is boosting surveillance measures that require planes to report any sick passengers before they land.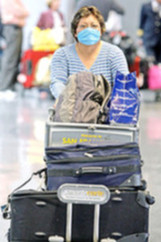 At least 6 people with flu-like symptoms were escorted off a plane in Brisbane airport, with one person detained and tested for swine flu.
Travelers arriving in Sydney from Hong Kong say they had to pass through thermal imaging scanners before getting on their flights.
"You walk past - they've obviously got a monitor pointing at you - you walk past and it reads your body temperature on a screen. They also did random checks of people, taking individual temperature checks and they did ask us if we had been into some of the affected areas if we could go and notify a doctor or ground staff in Hong Kong airport but Sydney and London seem to be relaxed about it."
Other passengers arriving from South America spoke of being quarantined at Santiago airport in Chile before being allowed to board their flight to Australia.
"In Chile, when we came off the plane, there is a camera at the end, catches everybody coming in. You have to stand on a cross on the floor and then we got put into quarantine for half an hour, just while they went through the paperwork."
Officials at the Association of Southeast Asian Nations say it is ready to quickly tap its emergency stockpile of one million courses of Tamiflu, an anti-flu treatment.
random check:随机抽查
quarantine:to exclude, detain, or isolate for political, social, or hygienic reasons.(隔离)
Researchers race to develop swine flu vaccine
WHO raises swine flu pandemic alert to level 4
WHO, US declare swine flu emergencies
(Source: VOA 英语点津编辑)