Italy hosts top world leaders this week for the G-8 summit of major industrialized nations. These meetings are held every year, but this year's site is somewhat unusual in that the summit takes place in a part of central Italy that was struck by a devastating earthquake in April, that killed nearly 300 people and left more than 65,000 homeless. Italy's prime minister, Silvio Berlusconi says he wanted to highlight the plight of the region.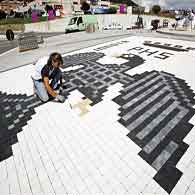 It is not the usual site for a gathering of the world's most powerful leaders. But, this year's summit is near the epicenter of an earthquake that left towns like L'Aquila in ruins.
Even now, three months after the quake, the center of town remains cordoned off - off limits even to local residents without an escort.
Firemen like Luciano Roncalli provide that escort. They were at the forefront of the initial search and rescue operations and are still at work trying to stabilize these fragile buildings - many of which are centuries old. Roncalli says there has been progress.
"What is important is that the rebuilding phase has started. This is important. You see the firemen, but you also see civilians, you see private companies. They are working here. It is important that they start again living here inside the center," he said.
This was once a bustling town - a favorite tourist attraction for visitors from nearby Rome - a place known for its lovely churches and its medieval charm.
All that changed in the early morning hours of April 6 when a powerful earthquake, measuring 5.8 on the Richter scale, shook much of central Italy and wreaked havoc in L'Aquila and surrounding towns and villages.
Luciano Roncalli headed the first response team sent here to help.
"I was amazed how many people were on the street, many of them volunteers. They wanted to help people, they wanted to give a hand to people, to save people," he said.
While L'Aquila was hard hit, the nearby village of Onna was almost completely destroyed. Of the 250 inhabitants, 40 were killed in the earthquake.
To this day, the clean up continues. And the people who used to live in these houses have now become homeless - some staying in hotels or with relatives, and many in tent camps.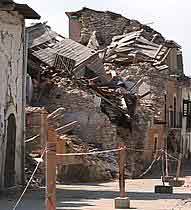 One such camp was set up in a sports center in L'Aquila. Nearly 300 tents here house more than 1,000 people.
Amid the rows of blue tents there are visible attempts at a return to normal life - a playground, a make-shift church, children's toys, picnic tables set up under awnings - a few personal touches.
Carla D'Ascenzo has been here since April 8. Her home in L'Aquila is not safe to return to, her small business shut down, at least for now.
"It is not easy, not easy because it is a tent and there are six of us in there. [Prime Minister] Berlusconi said, promised that come September everyone will have a roof. I would like to know where, because I do not know," she said.
41 year old Gianluca Colizzi sits outside talking with friends just a few tents down. He too lost his home, but still has a job. One has to make the best of it, he says.
"We have been living in a tent since the day of the earthquake. It is not easy when one [is] used to one's privacy. It is not easy," he said.
Living in makeshift shelters with memories of the trauma of the earthquake still fresh and ongoing anxiety fueled by nearly daily tremors and rumbling from deep within the earth - is not easy, agrees Guido Bertolaso, head of Italy's Civil Protection Agency.
"They [people] are not used to line up for their food, for their dinner, for their lunch, to use toilets that have been organized by us, live in tents, maybe with other people. It is extremely difficult. I am fully aware of their daily difficulties."
Bertolaso visits the camps to keep people informed, he says, to reassure them. He says the government is now focusing on building more secure temporary houses for an estimated 15,000 people, who by September will still not be able to return to their homes.
The government hopes the G-8 summit of world leaders here in the midst of the earthquake zone will help put the spotlight on the area and on its needs.
Rebuilding is under way, but those working here say restoring these towns and villages will likely take years.
epicenter: 震中
make-shift:权宜之计的,凑合的
G8 ministers conclude summit on food stability
G8 reaches deals to cut emissions
G8 unlikely to agree on climate deal
G8 summit expected to tackle global problems
(Source:VOA 英语点津编辑)