Initial results of an investigation into last month's Air France crash over the Atlantic find the aircraft plunged into the ocean at high speed. French investigators also say they are far from establishing the cause of the crash and the investigation will continue.
Top French investigator Alain Bouillard told a news conference the Air France craft was not destroyed in mid air, as some observers had previously suspected. The French aircraft, carrying 228 people on board, crashed into the Atlantic on June 1 as it headed from Rio de Janeiro to Paris.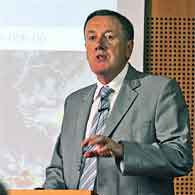 Bouillard said that preliminary conclusion was drawn from scouring the debris of 640 items from the plane along with other important information.
Bouillard told reporters the investigation to date suggests the airplane was not destroyed in air and it appeared to have hit the water with a strong vertical acceleration. He said efforts to find the plane's black boxes would continue until July 10. After that, investigators would enter a second phase in their search, using different methods.
Bouillard also said control of the flight failed to pass from air traffic controllers in Brazil to those in Senegal, as planned. Efforts to connect to a data system in Dakar failed, he said, apparently because the Senegalese never received the plane's flight plan. He said that was not normal.
The crash was one of the worst in recent aviation history and the worst ever for Air France. Bouillard said one suspected cause of the crash, faulty speed sensors on the craft, were only one factor in the crash, but not its cause.
Meanwhile a teenage girl believed to be the only survivor of another crash off the Comoros Islands has returned to France. The Yemenia aircraft crashed early Tuesday. The other 151 people on board are presumed dead.
vertical acceleration:垂直加速度
Plane carrying 153 crashes near Comoros, child found alive
Plane with 8 Chinese crashes into sea
Possible Air France debris located in Atlantic
Presidential plane photo op scares New Yorkers
(Source: VOA 英语点津编辑)