Skateboarding took off as a popular pastime for American youngsters in the 1970s. By the 1990s, Tony Hawk was its top competitor. Today, the champion skateboarder has retired from competition, but has involved in the industries from video games and skateboards to apparel, and also actively working with young skateboarders in the inner city.
Hawk, who is now 41, says he was a difficult child who made life hard for his teachers and parents. But a gift from his brother when Tony was 9 turned his life around.
"He gave me his old skateboard, and I just started doing it around the neighborhood with my friends and eventually made my way to the skate park in our city. Once I was there and I realized the possibilities of it, I was hooked."
A young superstar on wheels
Obsessed with his new pastime, Hawk was entering competitions by age 11. At 14, he signed with a professional team and appeared in a famous series of videos. Over the years, he invented dozens of moves in what is called "vertical skateboarding," an extreme sport involving aerial acrobatics. He has won more 70 professional skateboarding championships and has become a business brand, making skateboards and accessories, sports clothes and video games and DVDs.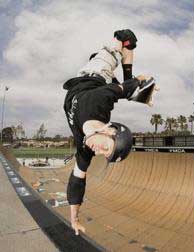 In the early days of the sport, Hawk says many did not take skateboarding seriously.
"When I was actually in my 20s, and people said, 'What do you do for a living?' and I said, 'Professional skateboarder,' they would just scoff. It just wasn't even something they considered was possible, or at my age. And nowadays, you tell people you are a professional skateboarder, they will get excited."
"I don't want to say it's a more exciting time, because I've always loved it and it's always exciting to me, but it's much more universal."
Helping youngsters skate to a more confident future
In 2002, he founded the Tony Hawk Foundation to help young skateboarders build skate parks in the inner city. It aims at doing more than just providing a place to skate. The kids are part of the process of getting the skate park built, and Hawk says it gives them a sense of accomplishment and shows adults that kids can work together toward a goal.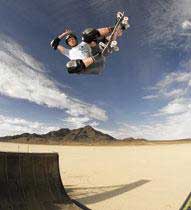 "We don't just come in and say, 'Here's a skate park, you're welcome. We want to support those who have already tried to get a skate park going and actually petitioned the city, gone to city council meetings, held fundraisers. Whatever they've done, we wanted to validate that work, and I feel like that's the real accomplishment for them, is that they saw it through, they cut through all the red tape, and they finally made it happen. And there it is. There is literally concrete evidence of their work."
In Campen, California, Hawk gave a demonstration to some of the local skateboarders and their new sakte park.
So far, the prganization has distributed more than $2.7 million to support and partially fund more than 400 skate parks, in places from Homer, Alaska to Ironton, Ohio.
Taking skateboarding into the mainstream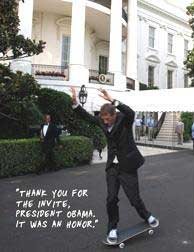 Hawk says skateboarding once had the aura of an outlaw sport because there were few places for youngsters to skate except where it was illegal. He says the sport is here to stay.
"[Kids] are going to keep skating, and you need to provide facilities for them, and there has been a turnaround in terms of perception and embracing skating for what it is, and I feel like we need more of those facilities in places where there is more at-risk youth."
Skateboarding is getting more and more recognition. This month, Hawk paid a visit to the White House and demonstrated his skills by skateboarding down the hallway of the Executive Mansion.
That ride shows that skateboarding, with the help of Tony Hawk, has gone mainstream.
apparel: clothing, esp. outerwear; garments; attire; raiment(衣服,装饰)
aerial acrobatics:特技飞行
Executive Mansion:白宫,州长官邸
Hard times for Australia's once dominant wine industry
France moves to impose ban on burqa
New Orleans clinic keeps music, musicians alive
(Source: VOA 英语点津编辑)