President Obama's latest remarks on Iran, in which he said the U.S. and the world are appalled and outraged by the Iranian government's crackdown on dissent, have met with praise but also some continuing criticism from members of Congress. The situation in Iran continues to be on the minds of U.S. lawmakers.
After almost two weeks of nearly constant criticism from minority Republicans who said he wasn't speaking out strongly enough, President Obama received some praise from the Republican leader in the House of Representatives.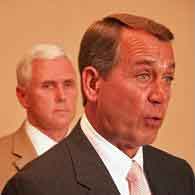 Representative John Boehner told reporters he believes the president did sharpen his criticism of the Iranian government for its violent response against demonstrators.
"I think the president did step up his criticism of the Iranian regime," said John Boehner. "I congratulate him for that, and we need to keep up the pressure on them."
In a 405 to 1 vote last week, the House approved a compromise resolution largely crafted by Republicans condemning ongoing violence by the Iranian government and pro-government militias against demonstrators, and the suppression of independent electronic communications through interference with the Internet and cell phones.
Appearing Tuesday on the Public Broadcasting System's The Newshour with Jim Lehrer, Republican Senator Lindsey Graham called President Obama's remarks strong. But Graham described as unpersuasive the president's continuing assertion that the U.S. must avoid being seen to be meddling in Iran so Iran's government will not use this as an excuse to intensify its crackdown on the opposition.
On the same broadcast, Democratic Senator John Kerry said the president has been absolutely correct in his statements about Iran, asserting that tough rhetoric against the Iranian government would be counterproductive.
In his remarks on Tuesday, President Obama paid tribute to Neda Agha Soltan, the young woman whose shooting death, recorded on a camera phone just after it occurred, was seen worldwide, calling it heartbreaking and fundamentally unjust.
The killing continued to reverberate in Congress. As the House Appropriations Committee voted to send a State Department and foreign aid funding bill to the full House of Representatives, Democrat Nita Lowey voiced congressional solidarity with demonstrators in Iran.
"While this bill is not related to the ongoing post-election events in Iran, we would be remiss to not express our solidarity with the protesters persuing electoral freedom in Tehran, consistent with our democratic values," said Nita Lowey.
Saying she fully supports President Obama's diplomatic efforts to prevent Iran from acquiring a nuclear weapons capability, Lowey supported an amendment to close a loophole in U.S. law regarding sanctions targeting Iran's energy sector.
The amendment would prevent the U.S. Export-Import Bank from entering into any deals with foreign companies that significantly contribute to Iran's refined petroleum resources, part of efforts to pressure Iran to stop its uranium enrichment program.
Speaking for the amendment, Republican Mark Kirk referred to the killing of Neda Agha Soltan and post-election events.
"I think it is very important that the U.S. taxpayer not subsidize a project which will help [President] Ahmadinejad out of his gasoline shortage problem," said Mark Kirk. "We saw this weekend the video of the death of Nada, a young girl on the streets of Tehran, as well as about a dozen others [and] reports even by the Governing Council of Iran that the votes in 50 Iranian cities were more than the number of people that lived in those cities."
In other Iran-related statements, Republican Representative Ileana Ros-Lehtinen said the Obama administration should order U.S. embassies around the world to rescind invitations for Iranian officials to attend July 4 Independence Day Celebrations.
Iranian attendance at the events, Ros-Lehtinen said, could be equated to fraternizing with the oppressors of people in Iran who yearn to live free.
step up: 逐步增强,提高
US denies interfering in Iranian affairs
Gates says US-Iran contacts will be open
US welcomes Iran statement on nuclear issue
US to join big-power nuclear talks with Iran
(Source: VOA 英语点津编辑)