A Yemeni Airbus 310 passenger plane traveling from Yemen's capital, Sanaa, to the Comoros Islands in the Indian Ocean, crashed early Tuesday as it approached the islands, killing most of the 153 people on board. A Comoros police official says a child has been rescued alive from the sea, but he knew of no other survivors.
It was the second crash in just under a month involving an Airbus passenger jet. The Yemeni plane went down as it was approaching Moroni, the Comoros capital.
Eyewitnesses indicated that "meteorological conditions were bad" around the time of the crash and that there was a "great deal of wind."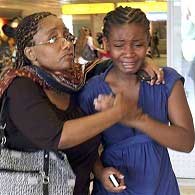 French Transport Minister Dominique Bussereau told a French TV station that the Yemenia Airlines Airbus A-310 which crashed had been prohibited from flying in French airspace since an inspection in 2007 found "numerous [technical] faults."
Yemeni Civil Aviation spokesman Mohammed Abdel Rahman Abdel Kader told journalists that "bodies were seen floating on the surface of the water and that a fuel slick had also been seen about 16 or 17 kilometers from Moroni."
Abdel Kader describes the situation. He says that 142 passengers and 11 crew members were on board the jetliner, including a number of children ... He adds that there was turbulence at the time that the flight was approaching a landing at Moroni airport and the sea was rough. Three rescue boats, he says, were sent out to search for survivors. A high-level committee, he emphasizes, has been set up to investigate the crash.
66 French citizens were reportedly on board the Yemenia airliner and most of the other passengers were from the Comoros.
French Army General Command spokesman Christophe Prazuck told France 24 TV a French Army rescue unit from Reunion Island is to help locate victims and recover parts of the crashed plane."
The Yemenia Airlines station chief in the Comoros islands, Gamal Abdel Ghaffour Ibrahim, told Yemeni TV that "Arab businessmen and tourists often take the flight to the Comoros and Yemenia [airlines] does its best to run a top-notch service."
An Air France Airbus A-330 crashed on a flight between Rio de Janeiro and Paris on June 1 killing all 228 people on board. The cause of that crash is still being investigated.
top-notch: first-rate; excellent(第一流的,拔尖的)
Air France to replace speed sensors on Airbus jets
Air industry looks to long term for gains
Possible Air France debris located in Atlantic
(Source: VOA 英语点津编辑)