As search crews continued to look for more bodies and wreckage from last week's Air France plane crash, the French carrier has decided to immediately replace suspect speed sensors with new ones on all its long-haul Airbus carriers.
The speed sensors are suspected in playing a part in last week's air crash over the Atlantic Ocean. An investigation into the incident has found the devices appeared to have provided inconsistent data to the pilots. One French pilots union, ALER, has urged its pilots not to fly the Airbus planes in question until these sensors are replaced.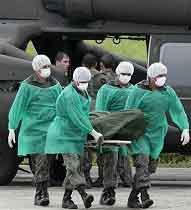 But on Tuesday, the main French pilots union SPNL announced Air France had agreed to immediately equip all of its Airbus A330 and A340 aircraft with new speed sensors. SPNL spokesman Eric Derivry told French media that Air France was replacing the sensors as of Tuesday, and that all the long-haul craft would have at least two of the new devices. Air France had earlier announced it would put in the new sensors but had offered no calendar. Airbus had also advised its customers to replace the sensors.
Derivry said properly functioning speed sensors were critical for pilots to navigate planes. He said there appeared a strong possibility that faulty sensors could have caused the crash even if there was no direct link at the moment.
Meanwhile, search crews working off Brazil returned the first of more than two dozen recovered bodies to land. According to news reports, they have also recovered a large tail section of the plane. Some 228 passengers and crew were aboard the Air France airliner when it disappeared over the Atlantic last week. The crash was the airline industry's deadliest in years, and the worst in Air France's history.
speed sensor:测速仪
as of:从……时起,到……时为止
long-haul: of or pertaining to a long haul(长途的)
Plane with 8 Chinese crashes into sea
Possible Air France debris located in Atlantic
Presidential plane photo op scares New Yorkers
(Source: VOA 英语点津编辑)