U.S. President Barack Obama and Russian President Dmitri Medvedev have approved a framework for a major new arms-control agreement. They made the announcement as they wrapped up summit talks in Moscow.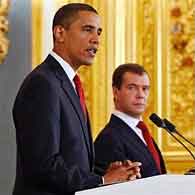 President Obama says a new legally binding agreement will be ready by the end of the year. He says it will replace the soon-to-expire Strategic Arms Reduction Treaty with even deeper cuts in nuclear arsenals.
"We have signed a joint understanding for a follow-on treaty to the START agreement that will reduce our nuclear warheads and delivery systems by up to a third from our current treaty limitations," President Obama said.
Mr. Obama says the deal reflects a new thinking in relations between Moscow and Washington.
Standing with President Medvedev in an ornate gilded hall in the Kremlin, he spoke of the need for a fresh start.
"The president and I agreed that the relationship between Russia and the United States has suffered from a sense of drift. We resolve to reset U.S. Russian relations so that we can cooperate more effectively in areas of common interest," he said.
Both men stressed that while arms control was a major topic of the Moscow summit, other issues were also discussed. They pointed to side agreements on military cooperation, health, and transit rights across Russia for American military supplies bound for Afghanistan.
At the same time, they spoke candidly about the differences that have plagued relations between the United States and Russia in recent years.
Key among them is Russian opposition to the basing of a proposed U.S. missile defense system in Poland and the Czech Republic. President Medvedev made clear the matter is far from resolved. But he said the tone of the dialogue has improved, and the new administration in Washington is actively listening to Moscow's concerns.
He spoke through a translator.
"Our American partners, unlike what was happening in recent years have taken a pause and now after studying this situation, and as a result of this...they will formulate their final position. This is also a step forward in reaching a possible compromise on this fairly difficult subject," said the Russian president.
During their joint news conference, President Obama was asked to weigh in on the dynamics between himself and the Russian leader. A reporter posed a simple question, "Do you trust him?"
"Yes, I trust President Medvedev to not only listen and to negotiate constructively, but also to follow-through," President Obama said.
Before leaving Washington, Mr. Obama told an interviewer he thinks Mr. Medvedev is more forward looking than Russian Prime Minister - and former president - Vladimir Putin. At the news conference, he stressed his aim is to work with the Russian government as a whole, and made no reference to Mr. Putin's political thinking. He meets Tuesday with the prime minister.
arsenal: 军备,供应
warhead: (导弹等的)弹头
follow-through: (把……)进行到底,实现
Gates hopeful of missile defense progress at US-Russia summit
US, Russia to reopen nuclear talks
Russia threatens to aim at US missile shield in Europe
US, Russia urged to slash nuclear arsenals
(Source: VOA 英语点津编辑)