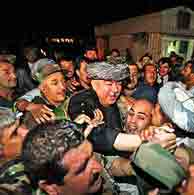 The U.S. State Department expressed serious concern on Monday about the return to Afghanistan of exiled warlord Abdul Rashid Dostum. The ethnic-Uzbek leader, accused of involvement in war crimes in Afghanistan, returned home to support the re-election campaign of Afghan President Hamid Karzai.
The Obama administration says it counseled the Karzai government against allowing the return of General Dostum, whose reputation threatens to cast a pall over the country's critical election process to which the United States has lent heavy support.
The controversial but still powerful Afghan political figure flew home from Turkey on Monday and immediately lent support to President Karzai, which could be critical in the multi-candidate presidential race. News reports say he may be given a government post, if Mr. Karzai wins re-election.
The ethnic Uzbek leader, who was a candidate in the country's 2004 election, is widely reported to be at least partly responsible for the alleged massacre of some 2,000 Taliban prisoners after the U.S.-led invasion of Afghanistan in 2001 and a cover-up of the deaths.
At a news briefing, Assistant Secretary of State for Public Affairs P.J. Crowley made clear that the Obama administration opposes Dostum's return and possible future role in the government, and that it is reviewing human rights charges against him.
"We have made clear to the government of Afghanistan our serious concerns regarding the return of Mr. Dostum and any prospective role in today's Afghanistan," said Crowley. "President Obama, based on an earlier story, had asked that the national security team gather further information on his background, including concerns that he might have been involved in the deaths of a significant number of Taliban prisoners of war a few years ago. And that team is continuing to gather that information."
A U.S. advocacy group, Physicians for Human Rights, says that allowing Dostum to return to any position of power - before there is a thorough and transparent investigation of allegations against him - will been seen by Afghans as confirmation that warlords like Dostum have impunity for their crimes.
Secretary of State Hillary Clinton issued a written statement on Monday reiterating U.S. impartiality in the presidential race, in which first-round voting will be held Thursday.
She said the United States does not support or oppose any particular candidate and that, like the Afghan people, it wants to see credible, secure and inclusive elections that all will judge to be legitimate.
Anticipating a close vote and possible run-off election, Clinton said she hopes that reporters will refrain from speculation in the several days it might take for initial results to be announced. She cautioned that a final vote count might take several weeks.
Clinton urged candidates and their supporters to act responsibly before and after the voting and said the United States looks forward to working with whomever the Afghan people elect as their leader for the next five years.
cast a pall over: to spoil something(破坏)
cover-up: 掩饰;掩盖;掩饰手段
impunity: exemption from punishment, penalty, or harm(惩罚、损失、伤害等的)免除
reiterate: to say or do again or repeatedly(重申)
run-off election: 决胜选举
Gates might agree to more troops for Afghanistan
Pentagon says operations to clear Taliban will expand
Gates calls on Pakistan to do more to fight Taliban
British government defends its strategy and support in Afghanistan
(Source: VOA 英语点津编辑)