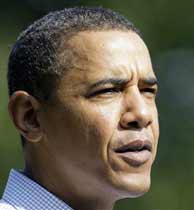 U.S. President Barack Obama says he is "heartbroken" by the passing of Senator Edward Kennedy, who died late Tueday after a battle with brain cancer. Mr. Obama is mourning a mentor and a friend.
President Barack Obama is leading the nation in remembering Ted Kennedy, calling him one of the greatest senators of our time. He says Kennedy was the defender of a dream.
"His extraordinary life on this earth has come to an end," said Mr. Obama. "The extraordinary good that he did lives on."
The president says America may never see his like again: a veteran lawmaker who left a lasting imprint on all aspects of life in the United States, from health care to civil rights to education.
"His ideas and ideals and are stamped on scores of laws reflected in millions of lives," he said.
Mr. Obama was in the senator's home state when he died - not far from the Kennedy compound in Hyannis Port, Massachusetts.
There had been indications that the two might meet during the Obama family vacation in Martha's Vineyard. Instead, the president found himself talking to the nation about the loss of a man known as "the liberal lion" of the Senate.
"The Kennedy name is synonymous with the Democratic Party," he said. "And at times, Ted was the target of partisan campaign attacks. But in the United States Senate, I can think of no one who engendered greater respect or affection from members on both sides of the aisle."
In his brief remarks, the president made clear he sees the death of Ted Kennedy as a personal loss. Kennedy was a mentor during his early days in the United States Senate, and was an early and avid booster of his presidential campaign.
"Over the past several years, I have had the honor to call Teddy a colleague, a counselor and a friend," said the president. "And even though we have known this day was coming for some time now, we awaited it with no small amount of dread."
Senator Kennedy died early Wednesday at his Massachusetts home. The last surviving brother of former President John Kennedy was 77.
imprint: a distinguishing influence or effect 印记
compound: a building or buildings, especially a residence or group of residences, set off and enclosed by a barrier 有围墙(或篱笆等的)住宅群
Obama awards Presidential Medal Of Freedom
Senator Edward Kennedy dies aged 77
Kennedy's successor to be chosen by special election
Teddy, the family, the friends
(Source: VOA 英语点津编辑)