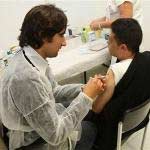 A European medical society has expressed alarm at the widespread opposition in Europe against the swine flu vaccine. Meanwhile, experts say the number of deaths in Europe from the H1N1 virus are doubling every two weeks.
Concern that Europeans are shunning the vaccine against the H1N1 virus was raised this week by the European Society of Clinical Microbiology and Infectious Diseases. The Swiss-based nonprofit says that as European countries roll out their vaccine campaigns, they face opposition from anti-vaccine lobbyists. It says some of these groups are deliberately spreading misinformation. Guiseppe Cornaglia is the society's former president.
"We have strong bodies of evidence from most countries in Europe in which many people, including doctors, public health professionals are disseminating doubts about the validity of the vaccine," said Cornaglia. "They are worried about the possible side effects, about what they listen to from friends and from the Internet because there is no official source. And they claim the need for a vaccination is not so great to afford these risks."
In France, where a government vaccine campaign kicked off in public schools on Wednesday, a recent survey found only 21 percent of French said they planned on getting vaccinated.
European skepticism about the vaccine comes as the Stockholm-based European Center for Disease Control and Prevention reports the number of deaths in Europe due to the H1N1 virus has been doubling every two weeks since mid-October. Altogether, the center says, about 670 deaths have been reported in Europe since April.
Cornaglia, of the Microbiology society, says doctors and health authorities need to campaign more strongly to get the right information out about the vaccines.
"If the authorities cannot convince the doctors and if the doctors don't advise their own patients, the battle is lost. Because of course the transmission is not efficient. The problem is possibly that the information isn't efficient enough," said Cornaglia.
If the vaccine campaign fails to take off in Europe, the society says, the swine flu pandemic may even spread more widely and cause more deaths, particularly among children and young adults.
Don't hide virus truth, local officials told
Vaccine shortage a concern in fight against H1N1
(来源:VOA 编辑:陈丹妮)