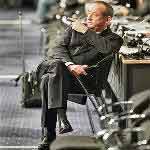 Speaking in Copenhagen, Yvo de Boer, the U.N. Framework Convention on Climate Change Executive Secretary, said the draft showed that climate change negotiations are moving forward.
"Negotiators are beginning to turn their attention to the bigger picture and the ultimate outcome of this conference," he said.
De Boer described the document as a 'framework', which still needs to be fleshed out.
The document leaves open the issue of how much cash will be needed to help developing countries adapt to climate change.
But European countries announced Friday they will contribute over $10 billion over the next three years.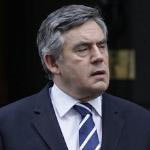 Britain's Prime Minister Gordon Brown said the European Union was committed to major emissions reductions.
"Our aim is through an ambitious deal that the European Union commit to reduce its emissions by 30 percent by 2020. The agreement must include a financial framework that is for the short-term, medium-term, and long-term," he said.
The draft text also leaves open the exact target for limiting temperature rise. Small Islands and some poor countries have called for temperature rise to be capped at 1.5 degrees Celsius - lower than the two degree figure endorsed by major developing economies in July.
But the draft does call on developed nations to cut green house gas emissions by at least 25 percent from 1990 levels by 2020 and by at least 50 percent by 2050. Greenhouse gases are the byproduct of fossil fuels, which scientists say are heating up the earth's atmosphere and bringing chaos to its climate system.
Scientist Stephan Harrison from Britain's University of Exeter says 50 percent-reduction targets are a good step, But he says, that reduction won't be enough to keep temperature rise below 2 degrees.
"People have said that an 80 percent reduction is probably the minimum required, so 50 percent clearly wouldn't be enough," he said.
He says the United States needs to take the lead in curbing emissions.
"America has enormous influence -- it's enormously powerful politically, so what America decides to do will have absolute fantastic influence," he added.
The United States has so far refused to sign up for legally binding lower emissions targets.
Grace Akumu is climate change advisor to the Kenya government. Speaking from Copenhagen she said the US has to do more to match the European Union's commitment to limiting climate change.
"America also should join other developed countries who propose comparable emissions reductions targets and time frames," she said. "So that the EU does not feel boxed to the corner. Because now the European Union has been baring the burden alone and America -- the largest emitter -- has been on the side of the Kyoto protocol," she added.
The conference in Copenhagen will continue until December 18. Early next week ministers will be arriving in Denmark's capital to join negotiations. Country leaders, including U.S. President Barack Obama, are expected at the end of the week.
The goal is to reach a global deal on tackling climate change, which will come into effect in 2013.
flesh out: to give substance to (an argument, description, etc.) 充实内容
leave open:未解决;悬而未决
European leaders home in on global warming policy
Polar explorer takes clean energy campaign to Copenhagen
Copenhagen conference gets down to work amid calls for results
(来源:VOA 编辑:陈丹妮)