The Angry Professor 生气的教授
Reserved 保守的, dignified 有威严的, calculating 深谋远虑的 and perhaps even unemotional 不易表露感情的; all adjectives you might hear if you asked someone to describe Arsenal manager Arsene Wenger.
Indeed the Frenchman is known in football circles as 'the Professor' for his studious 好学的, meticulous 一丝不苟的 approach to football management.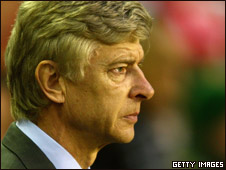 So when Wenger lost his rag 发脾气 with his team on Sunday after an appalling 令人震惊和失望的 first-half performance against Liverpool, his players didn't know what had hit them 非常惊奇.
Arsenal midfielder Cesc Fabregas said: "I have never seen him like that."
Let's set the scene (为…)做好准备: Liverpool are playing at home and have completely dominated 控制(局面) the first half, scoring once and outclassing 大大领先 Arsenal before the break 中场之前. Arsenal are still hoping to challenge for the title, but have suffered a string of 一连串的 defeats to big clubs recently, and their title hopes 夺冠希望 appear to be fading, especially if they lose this game. Things don't look good for Arsenal.
I have never seen him like that.
Cesc Fabregas, Arsenal player
Step in Arsene Wenger, with an uncharacteristic 与往常不同的 half-time tirade愤怒的指责 against his players.
It appears to have worked. Arsenal drew level 比分扳平 five minutes into the second half, and then went ahead on 58 minutes through a wonderful goal from Russian midfielder Andrei Arshavin. In the remaining half an hour, Liverpool barely 仅仅 managed a shot on target and victory was Arsenal's.
Fabregas believed that Wenger's half-time team-talk was the key: "It worked, maybe he should do it more often.
"He tried to tell us what we had to do in order to improve."
Nonetheless, Wenger himself was keen to play down 轻描淡写的 the significance of what he said:
I try to be composed. It was good to be able to surprise the players after 13 years.
Arsene Wenger, Arsenal manager
"I try to be composed 镇静的. It was good to be able to surprise the players after 13 years [in charge of Arsenal].
"I believe we were not ourselves in the first-half - we played with a hand-brake on."
When he says they played with the hand-brake 手刹 on, he means they did not play as well as they could, that they hadn't really got started.
Despite his half-time outburst 爆发, Wenger was back to his more careful self after the game.
Asked if his team were back in the frame 重新回到夺冠队伍行列中 to win the league, Wenger said: "Mathematically yes, and mentally certainly."
By "mathematically" he means that they can gain enough points to win the league. The second part of the phrase means that they now have the confidence to win games.
After the result, Chelsea remain top of the table with 37 points, Manchester United are three points behind in second place, and Arsenal are six points behind in third, though they have a game in hand 手里还有一场球.
Liverpool, the other of the so-called 'big four' clubs, are languishing 在底线挣扎 13 points behind Chelsea in seventh position, leaving their manager Rafa Benítez with a mountain to climb 任重道远 in the second half of the season.