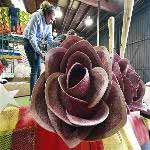 In California, preparations are underway for the annual Rose Parade, a colorful New Year's Day tradition. Volunteers are working around the clock to decorate parade floats with flowers, plants and other organic materials.
Hundreds of thousands of people will line the streets of Pasadena to see the flower-covered floats, marching bands and equestrian units. This is the 121st annual Rose Parade, and it will be seen on television by millions around the United States and in many other countries.
Hundreds of volunteers have come to Pasadena to help with decorations, including Cheryl Vanos, her children and other family members from eastern California. She is sorting through masses of dried green moss.
"We're helping to get all the stuff ready to go on the floats. I brought my kids from South Lake Tahoe and we figured that this would be something that they could do. We did it when we were kids," she said.
They are decorating a float sponsored by the two campuses of California Polytechnic State University, known as Cal Poly. The display has a humorous theme, showing a lion, giraffe, and zebra getting haircuts. As with every float, each square centimeter of space must be covered with flowers or other organic material, including moss, seeds, bark and plant fiber.
Thirty-nine elaborate parade floats will celebrate a variety of themes, from the bicentennial of the war for Mexican independence to American major league baseball.
The overall theme for this year's parade is "2010: a Cut Above the Rest," and the New Year's procession will be led by grand marshal Chesley "Sully" Sullenberger, the celebrated airline pilot. Last January, Sullenberger's airliner lost both engines and he managed to safely land the troubled jetliner on New York's Hudson River, saving the lives of 155 people on board.
Frank Scalfaro of West Covina, California, is helping with his city's entry in the parade, which also has an aviation theme.
"This is our 12th entry. And this is the one that we're most proud of," he said.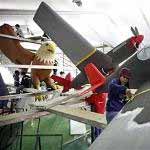 The float celebrates the legacy of the Tuskegee Airmen, a World War II unit of African-American pilots. The movable display, which is 15 meters long and five meters high, has two nearly life-sized models of fighter aircraft, covered with flowers, and flower-decked insignia.
"The float itself will have an eagle on it. So we have the eagle that represents freedom," he said. "We have the two P-51 aircraft, which is the aircraft the men flew later on in the war. We're going to have 16 riders, all original airmen," he explained.
Harlan Leonard is one of the former Tuskegee Airmen who will ride atop the float. He was a fighter pilot during the war, then served in the post-war Air Force, retiring as a lieutenant colonel. He says the war-time unit helped break down racial barriers in the United States.
"The Tuskegee airmen, because of their achievements, contributed to our getting an integrated Air Force, and therefore opened the door to the opportunities. I was able to take advantage of those opportunities," he said.
Nearby, volunteer decorator George Torney of San Francisco is sorting and gluing yellow flower petals on the float that honors the airmen. He says that volunteers like him are assigned to different jobs according to their skills.
"Some are just sweeping and cleaning, carrying things. Other people, as you can see, are way up high up on the scaffolds putting wings on the eagles. It depends on your skill level. We've worked on 10 or 12 floats, so we know basically how to go about this," he said.
For the volunteers, the meticulous work will continue through New Year's Eve, and the colorful results will be on display early New Year's morning.
equestrian: of or relating to horseback riding or horseback riders 骑马者的
moss: any of various green, usually small, nonvascular plants of the class Musci of the division Bryophyta 苔藓;地衣
marshal: a military officer of the highest rank in some countries 高级将官
insignia: a badge of office, rank, membership, or nationality; an emblem 徽章
scaffold: a raised wooden framework or platform 脚手架
Saying goodbye to 2009, hoping for a better 2010
Rose Festival celebrated in Kazanluk
Sunshine, big crowds greet Rose Parade
China float features Olympics in Rose Parade
(来源:VOA 编辑:陈丹妮)