Neither Nor 两者都不
Could you please explain the differences between 'neither' and 'nor' and how to use them? Thank you.
Huang Ding, China
Learners of English from China are often confused by the words 'neither' and 'nor'.
In the programme, Yang Li answers Huang Ding's question on the correct usage of these words.
Here are a few examples to give you a taste:
He is neither tall nor short. He is medium height.
他不高也不矮,中等个儿。
Neither candidate is suitable for the job.
两个候选人都不适合这项工作。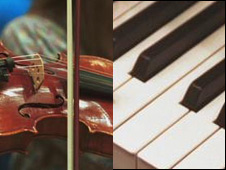 I have never been to New York, neither has my sister.
我从来没有去过纽约,我妹妹也没去过。
Listen to the programme for more examples and a fuller explanation of how to use them.
Don't forget, if you have a question about English, email it to questions.chinaelt@bbc.co.uk. We may answer it in this programme.
Glossary 词汇
confused by 被... 迷惑
usage 用法
a taste 简介