UK Nurse 英国的护士
I am a Chinese registered nurse. After I go to England I want to still work as a nurse. What do I need to do to be able to do this? What conditions do I need to meet? Also could you tell me about a typical day for a nurse in England? Thank you very much!
Yang Shiling
Nursing is an important profession in the UK. All nurses must be registered with the Nursing and Midwifery Council. Qualified nurses are in great demand.
There are different types of nurses in England, including hospital nurses, district nurses, school nurses and practice nurses.
Yang Shiling is a Chinese registered nurse and she is planning to come over to England.
Would she be able to work as a nurse straight away in the UK?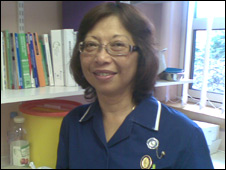 Would her Chinese qualifications be recognised?
Yang Li put the questions to Ivy Lim, a UK-registered nurse with 15 years of experience.
Ivy also gave a vivid description of what a typical day is like in the working life of a practice nurse.
After you finish listening to the programme try the quiz to test your understanding.
Do you have a question about Britain? 你有没有对英国的疑问?
Then email us at chinaelt@bbc.co.uk
欢迎你把问题通过电子邮件发给我们:chinaelt@bbc.co.uk
Do you have a question about Britain? 你有没有对英国的疑问?
Then email us at chinaelt@bbc.co.uk
欢迎你把问题通过电子邮件发给我们: chinaelt@bbc.co.uk