Mutiny on the Bounty Again 重现《叛舰喋血记》
By Nick Bryant, Sydney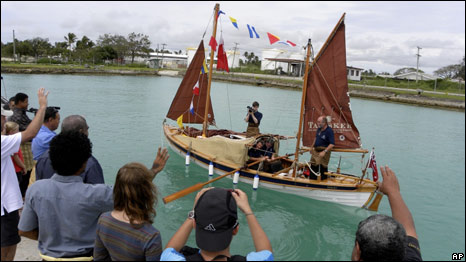 媒体英语会带大家一起学习BBC撰稿人在报道世界大事时常用到的单词和短语。
Background:四名水手在1789年后的今天,正在南太平洋上重现当年由威廉·布莱斯船长领航的邦蒂号7000公里漂流航程。他们这次远征使用的是长25英尺,带有两个小帆的开敞甲板船。此次航行他们计划从汤加王国出发,在7周之内到达帝汶岛。这几名船员同时也在努力重现当年威廉·布莱斯船长所面对的种种状况。
Memorialised in two Hollywood films as well as novels and poems, the mutiny on the Bounty unfolded in 1789 when William Bligh, the captain of a British Royal Navy ship was cast adrift in the South Pacific by his rebellious crew.
Accompanied by 18 men, Bligh managed to sail from near Tonga to West Timor in a voyage that lasted almost 50 days.
He survived on catching fish and drinking rain water.
Now a crew of four sailors is trying to recreate that epic 7,000-km voyage in their own open-top sailing boat.
From Tonga they'll head west to Fiji, Vanuatu and Restoration Island before sailing north to Australia's Great Barrier Reef, then through the Torres Strait to west Timor.
To add to the authenticity of the voyage the adventurers are trying to get close to the provisions which Captain Bligh had on board - ship biscuits, pork, over 100 litres of water and six bottles of wine.
Like Bligh, they won't be using any modern-day navigational equipment such as charts, a compass or lights.
The main difference is that their boat is only about half the size of Bligh's vessel and their biggest fear is the danger of capsizing.
Glossary 词汇表 (收听发音, 请单击英语单词)