Sea-water for Sale 出售海水
By Angus Crawford, BBC Reporter.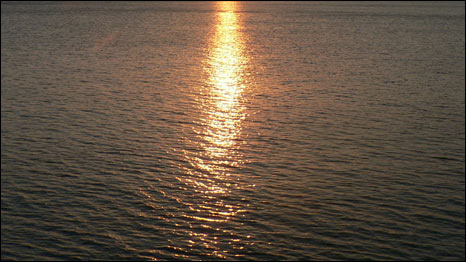 媒体英语会带大家一起学习BBC撰稿人在报道世界大事时常用到的单词和短语。
Background: 现在市面上销售的瓶装水种类、口味琳琅满目。不过最近在苏格兰的一些商店里,消费者可以买到一种源自苏格兰西部群岛的瓶装海水。
Miles and miles of white sand, a bracing wind and billions of gallons of what one entrepreneur hopes will soon become a must-have kitchen ingredient.
This is the island of Berneray, where Prince Charles once famously planted potatoes, in the Outer Hebrides off the west coast of Scotland. The sea-water is said to be some of the cleanest in Europe. Now Andy Inglis hopes to bottle it and place it in the hands of cooks across the UK.
"I'm doing this seriously, but there's a kind of smile across my face as well. I know it's a bit cheeky; when I first started talking about the idea it was described by people as being, you know, brilliant but bonkers. So I know it's a bit out-there, leftfield, but I'm happy with that. I've given up my nice, safe government job and I'm committed to giving this a go."
He hopes it could bring money and jobs to Berneray, where the water is extracted. Some well-known chefs have welcomed the move, saying cooking in sea-water improves the flavour of many dishes.
John Quigley though owns the Red Onion restaurant in Glasgow. He believes he can get the same experience turning on the tap, adding some salt and throwing in a piece of edible seaweed.