What are the teams to watch out for at this year's World Cup? What players are going to cover themselves in glory? Find out with this special Off the Pitch World Cup preview.
Brazil
Brazil have still got some fantastic players, nobody more so than Kaká, who I think, although he's had a relatively poor season for Real Madrid, I think he could come out and really dominate this World Cup in the Brazilian midfield.
John Motson, BBC commentator
Previous World Cup form

Winners in 1958, 1962, 1970, 1994 and 2002
Background

By virtue of their footballing heritage 遗产, their spirit and their unchanging ability to produce stars that are snapped up 抢购 by clubs the world over, Brazil are always contenders 争夺者 for World Cup success.
2010 is no exception, with Brazil entering the competition with just one defeat in 24 games. However, this year's squad is a little different from usual. The national coach, Dunga, was captain of the team that won the World Cup in 1994. He has fashioned 组建 a more tightly-knit 紧密的 team that is less reliant on the flair 才华,能力 of individuals. A good example of this attitude is the omission 缺席 from the squad of Ronaldinho, twice World Player of the Year.
Player to Watch: Kaká

The BBC's commentator John Motson has been to nine World Cup finals. So when he picks out a player to keep an eye on 注意 it's worth taking notice. 'Motty' thinks that although Kaká has had a disappointing club season, he could come to dominate 统治 the midfield in this World Cup.


Italy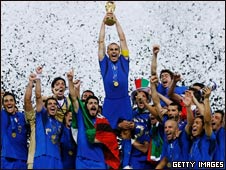 Previous World Cup form

Winners in 1934, 1938, 1982 and 2006
Background

Italy deserve a space in this pre-tournament low-down 实情一览 both because they are defending champions 卫冕冠军 and also because only Brazil have a better World Cup record.
Having said that, Italy failed to retain the form 状态 they achieved in the last World Cup and lost to Spain in Euro 2008. Since then, Marcello Lippi, the coach who masterminded 策划了 their victory in 2006, has rejoined the team. He has kept many of the stars of 2006, but it remains to be seen if the experience of his team outweighs 比…更重要 the disadvantages of their age.
Player to Watch: Buffon

Gianluigi Buffon is still seen by many as the world's finest goalkeeper, even if he is increasingly injury-prone 容易受伤的人. Buffon has been Serie A Goalkeeper of the Year a record nine times and is likely to be making some of the most spectacular saves 救球 of the tournament.
Spain
Previous World Cup form

Quarter-finalists 四分之一决赛入围队 in 1986, 1994 and 2002
Background

Spain have never made it to the final of a World Cup but they enter the 2010 competition as favourites 最有希望获胜者 to lift the trophy. In 2008 they won the European Cup and they have been on top of the FIFA rankings for 17 of the subsequent 随后的 23 months. Spain qualified for the World Cup by winning an unprecedented 前所未有的 10 games out of 10.
Talent runs right through the Spanish side from captain Iker Casillas in goal, to a midfielder who was last year described as the world's greatest player by Wayne Rooney - Andrés Iniesta – to a striker the whole world will be watching, David Villa.
Player to Watch: Villa

His nickname 绰号 might be El Guaje (The Kid) but David Villa is already Spain's second-highest goal-scorer ever. The 28-year-old scored seven goals in as many games during the World Cup qualification campaign and is a definite contender for the Golden Boot 金靴奖 in South Africa.
Argentina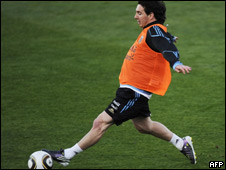 Previous World Cup form

Winners in 1978 and 1986; runners-up 亚军 in 1930 and 1990
Background

For most English football fans Argentina are still associated with one of the most controversial and gifted 有天赋的 players the world has ever seen: Diego Maradona. His infamous first goal against England in a 1986 World Cup quarter-final was an unpenalised handball 未受罚的手球; his second, winning goal, involved him dribbling 带球,盘球 past six England players and was later voted Goal of the Century by FIFA.com voters.
Maradona is now Argentina's national coach but if his team do well (and they are likely to do well) this will be down to 因为 the incredible quality of the players.
Player to Watch: Messi

The diminutive 矮小的 Lionel Messi is seen by many as the world's greatest player and his speed and control make him a worthy successor to Maradona. He has captivated 迷住 European clubs with his performances for Barcelona this season but has so far failed to replicate 重复,再生 that form at the international level, scoring just four goals in 18 qualifiers.
England


Previous World Cup form

Winners in 1968
Background

Fabio Capello is the highest-paid coach at the World Cup but if he manages to get England to the final he will be worth a lot more than his six-million-pound (59 million Yuan) salary. Although everyone agrees that his tough style has reinvigorated 使再振作 a side that failed to qualify for the European Cup in 2008, many of the same players remain on the field. Moreover, there is some concern that England are too reliant 依赖的 on their star striker, Wayne Rooney.
Steven has got that very kind of quiet way about him off the pitch but everybody respects him for that. But when he plays he plays with a lot of inspiration and he's a player to look up to.
Frank Lampard on England Captain Steven Gerrard
England have also had some bad luck. Their captain, Rio Ferdinand, was injured last week in his first full training session in South Africa. The new captain Steven Gerrard is a quiet man that, as teammate Frank Lampard points out, everyone can look up to 尊重. But does Gerrard have what it takes to get England into a semi-final against Brazil?
Player to Watch: Rooney

A world-class striker, Wayne Rooney has just had his best-ever season, scoring 34 goals at club level. Rooney will be keen to do better than he did at the World Cup in 2006, when he was sent off during a quarter-final defeat at the hands of 出自某人之手 Portugal.