Internet Address Change 互联网网址更新
New Names新名称
The internet is often described as the World Wide Web but how truly global is it when millions of users have no choice but to use a Latin-based alphabet to name websites and email addresses?
All of that is set to change following the decision taken by the internet regulator organisation to allow domain names to be in non-Latin scripts.
The Internet Corporation for Assigned Names and Numbers (Icann) announced the historic change at its board meeting in Seoul, Korea this week.
The new naming system means that websites will no longer have to include suffixes such as .com, .co.uk or .cn written in English.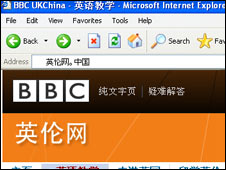 Instead complete web addresses will be possible in languages such as Chinese, Arabic or Korean for the first time.
These new Internationalised Domain Names (IDNs) will come online next year, and may prove very popular since more than half of the 1.6 billion people who use the internet speak languages that do not use the alphabet.
The president of Icann, Rod Beckstrom, said that the new IDNs would represent the "biggest change" to the coding behind the internet since it was invented forty years ago.
He also said the move was necessary and the morally correct thing to do.
"Not only is it an issue of convenience, but it's an issue of what's right, the right to express their names in their own cultural language," said Mr Beckstrom.
The change to the naming system is not without its critics however.
Some have said that the new approach could lead to the ghettoisation of the internet with some online communities operating only within their languages, isolated from the rest of the web.
Others have claimed that it will make protection of intellectual property rights even harder than it already is.
Glossary 词汇表 (收听发音, 请单击英语单词)