Skating Gold for China 中国选手花样滑冰夺冠
The Comeback King and Queen 冰上王子和公主复出夺冠
Chinese figure skaters Shen Xue and Zhao Hongbo rolled back the years to win China's first gold medal at the 2010 Vancouver Winter Olympics on Monday.
Their victory came as a fairytale ending to a story that seems more like a Hollywood movie than real life.
The veteran husband and wife duo were lured out of retirement for one last crack at Olympic gold, having previously won bronze medals in the 2002 and 2006 Winter Games.
At the age of 36 and 31 respectively Zhao Hongbo and Shen Xue defied sporting convention by overcoming the figure-skating world's young whippersnappers.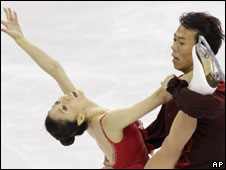 Ordinarily at such an age the married couple should not be competing in international events let alone bringing home Olympic gold.
To add to the drama the pair had been the lowest-ranked competitors going into the competition due to their lengthy absence from the ice.
But against all odds their superb short programme score from Sunday was enough to see them win the overall competition despite some small errors in Monday's free skate event.
An emotional Zhao said, "It's been so many years - to finally get this gold is so exciting. So many years have been devoted to this dream."
China has now won three medals at the Vancouver Games – one gold, one silver, and one bronze for Wang Beixing in the women's 500m speed skating.
So what next for Zhao and Shen? Will they defend their medals in the next games?
Well, Shen indicated that the couple may have other plans:
"It's hard to continue skating - maybe it's time to have a baby," she said.
Glossary 词汇表 (收听发音, 请单击英语单词)