3D Alice in Wonderland 3D爱丽丝梦游仙境
Back Down the Rabbit Hole 重游兔穴
The ongoing mania for 3D movies continues in the UK this week with the release of an updated version of the classic British children's novel Alice in Wonderland.
The film is the work of maverick Hollywood director Tim Burton who has carved a niche for himself by "re-imagining" classic films and stories in his trademark Gothic style.
As well as starring Hollywood heartthrob Johnny Depp as the Mad Hatter, the film features a wealth of British talent including Burton's wife Helena Bonham-Carter, while many other British actors supply the voices for the film's CGI characters.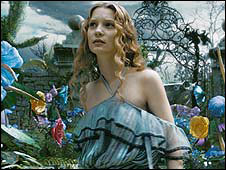 The film sees 19-year-old Alice return to Wonderland ten years after her original adventures, where she must realise her destiny and end the Red Queen's reign of terror.
Although the film is a 21st Century, technology-laden, visual feast, it is based on the works of the 19th Century mathematician Lewis Carroll.
Lewis Carroll was actually the pen name of Charles Lutwidge Dodgson, a lecturer in mathematics at Christ Church College, Oxford.
Carroll is said to have written the book for the entertainment of the children of an Oxford colleague, having made up stories for them during rowing trips around the Oxford area.
The books are characterised by a sense of absurd fantasy, however, they also reflect Carroll's fascinations as a mathematician and logician, which may explain why they have had such enduring appeal for children and adults alike.
It would appear then that 145 years after their original publication Alice's adventures continue to enthral and intrigue, and will doubtless do so for many years to come.
Glossary 词汇表 (收听发音, 请单击英语单词)