Chilean Miners Rescued 智利矿工获救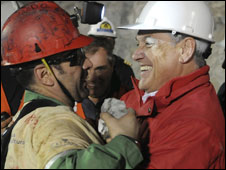 The eyes of the world are glued to the Atacama Desert in Chile as 33 trapped miners are finally being brought to the surface one by one.
Florencio Avalos was the first to be freed, at 0010 local time (0310 GMT). Chile's president, Sebastian Pinera, was on hand to hug Mr Avalos after he came to the surface.
"This country shows its true soul, shows what it is capable of, when we face adversity" the President said in an address. But he added: "This won't be over until all 33 are out."
There were further scenes of jubilation when Mario Sepulveda, the second miner to be rescued, reached the surface.
Mr Sepulveda emerged from the Phoenix rescue capsule smiling and seeming as fit as a fiddle. He had brought with him a bag of rocks from the bottom of the mine, which he started to hand out as mementoes. He then led a group of rescue workers in joyful chanting.
The engineers overseeing the rescue are planning to winch up the miners at a rate of roughly one an hour.
Much thought has gone into the order in which they are saved. The first men were amongst those in the best condition, physically and mentally.
Next, the rescuers started to retrieve those who were weaker or ill.
Inside the capsule, the miners' heart rate, temperature and oxygen consumption is monitored and they can speak to controllers on the surface.
At the top, they emerge into the glare of the world's cameras wearing state-of-the-art sunglasses supplied by an American optics company.
The intense media attention, and the free sunglasses, are an introduction to what will doubtless be very changed circumstances in the men's lives.
"It's not only bright lights, it's millions of jabbering people. Millions of people, prodding and poking them," said Dr James Thompson, a senior psychology lecturer at University College London.
The miners have already received offers of book deals and new jobs.
We don't know if they will cope well with their fame. However, one thing is for sure: if the miners continue to show the sort of collective resolve that has come to define their amazing story then they have a good chance.
Glossary 词汇表 (收听发音, 请单击英语单词)