Hollywood in your Home 在家看新片首映式
Hollywood in your Home 在家看新片首映式
The Cinema and Home Cinema 电影院和家庭影院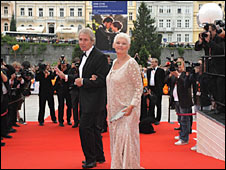 Do you wish you could watch the latest Hollywood releases without leaving the comfort of your home?
You might be able to do just that soon – if you've got the cash.
Prima Cinema is a new service in the USA that will offer subscribers the opportunity to watch brand new films on the day of their release.
At the moment, movie fans generally have to wait at least a couple of months before a picture is released on DVD or for digital download. For some people, that makes 'home cinema' just a phrase.
But subscribers to Prima will be able to enjoy the latest blockbuster, romcom or thriller if they invest $20,000 (130,000 yuan) in a special set-top box.
That might seem a lot of money but the expenditure doesn't end there. Each film will cost $500 (3,200 yuan) and since every download will be around 30 gigabytes, subscribers will probably need a high-end internet connection.
Prima Cinema's founder, Jason Pang, is unapologetic. "Quite frankly, it does cost that much simply because of the security," he said.
He is sure that there are enough rich people with expensive home theatre setups to make this new venture work.
But what about the experience of going to the cinema? Could this new service mean the end of going to the multiplex to catch a flick on a Friday night?
Jason Pang thinks not. Of his typical customer, he says: "This is not a client that goes to their box office on a regular basis."
Glossary 词汇表 (收听发音, 请单击英语单词)